Many a times it happens that we forget our Facebook password if we frequently change it or could be the case that someone has hacked our Facebook account and then we are unable to access our Facebook account. Facebook has come up with a good feature called 'Trusted Contacts' which helps you to recover the password. To enable the  Facebook Trusted Contacts feature in your Facebook account, you require a minimum of 3 friends.
Note: Choose the Trusted Contacts whom you can contact without the usage of Facebook or can reach them over the phone or see them personally.
Recover your Facebook password via Facebook Trusted Contacts:
1. Login to your Facebook account, click on the gear icon and then click on Account Settings.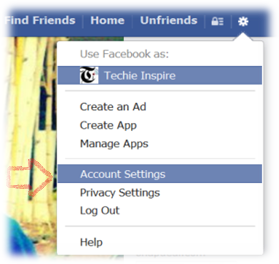 2. Now in Account Settings click on the Security tab. You will see 'Trusted Contacts', click on Edit to add your Trusted Contacts.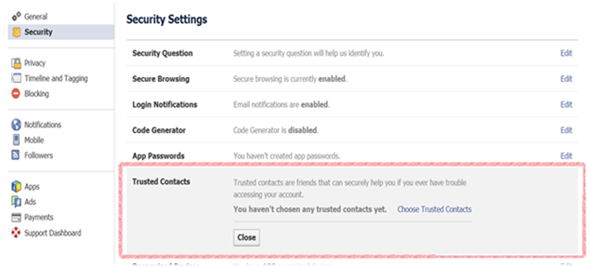 3. Click 'Choose Trusted Contacts' and choose 3 – 5 trusted contacts from your Facebook Friends list.
4. When you are done choosing your Facebook Trusted Contacts, Facebook will send notifications to all your selected contacts, that you are selected as trusted friends in your account for password recovery in future.
Whenever in the future you forget your Facebook password or someone has hacked your Facebook account, call all your Trusted Contacts seeking their help. Each of them receive a security code, which you have to enter on the Facebook recovery page to recover your account.