We all know that PC has an option called safe mode. Safe mode is an alternative method of booting when normal booting fails due to some error.
Safe mode help to boot the system such that it does not load any third-party programs or application in safe mode. Similar to Safe Mode on PC, we also have an option of safe mode on our phone. Most people are unaware that their Nokia phone also has an option to boot in safe mode.
The safe boot can be used when your phone memory is full, the phone is not booting as usual, restarting repeatedly, the phone OS is corrupted, or system files are corrupted. Using safe mode, we can recover and fix the issue.
Note: This Guide is for the Nokia phone supporting Symbian OS S60V2.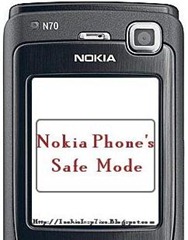 Follow simple steps to Boot Nokia Phone in Safe Mode
When your phone is switched off, Press the Pencil Button and Power Button Together and wait until your phone starts up.
Check here for more tricks on Nokia Pencil Edit Key.
When to use this?
1) You mistakenly deleted a System file.
2) When C:/ MEMORY is Full And Phone is not switching ON.