When you install a fresh copy of Windows XP, you will see the window desktop has only a recycle bin icon. Apart from Recycle Bin icon, there are other windows icons like My Computer, My Documents, Internet Explorer, etc., which are available to be set as the desktop icons.
However, These icons are not enabled by default in Windows and need to enable manually.
To Set Windows Default Icons on the desktop for Windows XP
Step 1: Open Display properties, right-click on the desktop, select Properties or
Press window key + r, Now, in the run command, type desk.cpl and Enter.
Step 2: Now, Go to the Desktop tab, click on Customize and select the icon you need on the desktop.
Step 3: Now, Click the OK button. Now Apply And Ok. The selected icon will be visible on the desktop.
To restore Icons to Default
Any changes made to the icon can be restored to default.
Step 1: Go to Display Properties –> Desktop Tab –> Customize desktop.
Step 2: Now click on the Restore Default button to restore the icon to windows default.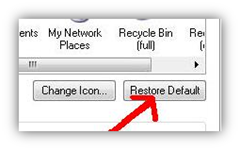 Step 3: Now, Click the OK button. Now Apply And ok And icon will restore to default.