Do you want to show fake specifications of your Windows system to fool your friends or Family? If yes, this article will guide you on how you can display a fake system specification on your Windows 10. This trick will also work on Windows 7 and Windows 11.
Using this trick, you can make them believe that you have a high-end CPU configuration or a CPU configuration that has never been launched. You may even try writing funny messages instead of showing the CPU specification.
You may also try taking a snapshot of your fake CPU configuration and send it across to your friends to believe you. Since many people are not aware of this trick, you will eventually have someone who will fall for it.
For this trick, we will use Windows Register Editor to change the value of the CPU description.
No matter what change you make to the description value but after you restart your computer, it will get changed to your real configuration detail as before. Hence this trick is safe unless you don't fiddle with other values.
Follow the below steps to Display Fake CPU configurations
Step 1: Press Win + R to Open Run Box, Type "Regedit" and press Enter.
Step 2: In Regedit, Navigate to HKEY_LOCAL_MACHINE –> HARDWARE –> DESCRIPTION –> System –> Central Processor –> 0.
Step 3: Now, On the right pane, Find "ProcessorNameString" in the name column.
Step 4: Double-click on "ProcessorNameString" and modify its value data. Change the Value Data as you wish. After Changing the value Data, Press Ok. Suppose you Change to Intel(R) Core(TM) i20-8000U CPU @ 200.70GHz. This detail will be shown on system properties.
Now, Check the System Properties(Press Window Logo + Pause Break).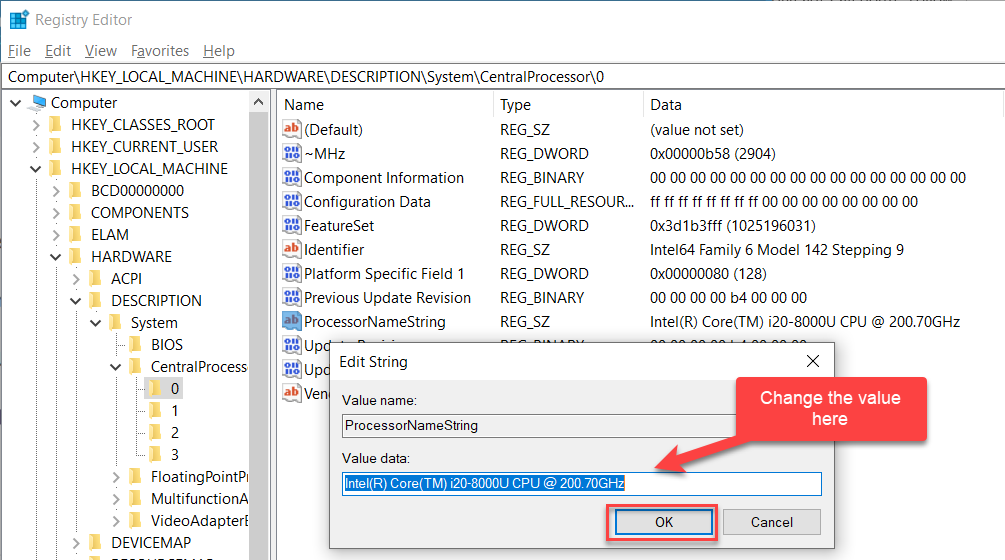 Note: These changes are temporary. If you restart your system, it will change to the default specification that you had earlier.
If you Found this article Interesting, then Please Subscribe to Techie Inspire.