When PCs or Laptops are purchased from brands Like LG, HCL, SAMSUNG, etc., they have their logos and company name on the System Properties.
Branding can be seen on any PC or laptop purchased by a company that comes with a pre-installed Windows Operating System. Some people, in general, don't like to see their manufacturer logo on their System Properties. Instead, they want their own personalized logo or the logo of another manufacturer to be seen.
In this article, we will see how you can add or change OEM Logo and other details in your System Properties on Windows XP.
Check here if you want to add or change OEM Logo for Windows 7 or Windows 10.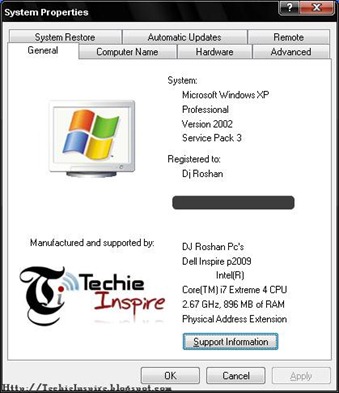 Steps to change details in System Properties Information
Step 1: Open Notepad, copy the below code and paste it into the Notepad, and modify the manufacturer and model names.
Furthermore, modify support information to add more detail if required. Save the file with the filename as OEMINFO.INI
[General]
Manufacturer=Your Name Here
Model=Your Model Here
[Support Information]
Line1=Your Name Here
Line2=Your Address Here
Line3=Your Email Address Here
Step 2: Copy the "OEMINFO.INI" file to Windows\System32 Folder directories (where Windows OS is installed). 
To open the folder directly, Go to Start –> Run, copy the below line, and paste it to the Run dialog box to open the System32 folder.
%Systemroot%\System32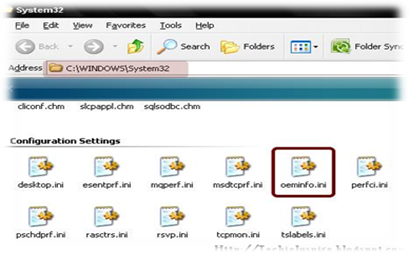 Step 3: Now, copy and paste the "OEMINFO.INI" file to System 32 folder. Check System properties to view the brand name as you have customized it.
Press the Windows Logo + Pause Break button on the keyboard and check on General Tab at the bottom to check System properties. When you click on the Support Information button, you will see the additional information you added.
If you want to display some more information to Support Information, then simply increase the line to the file.
e.g., Line4=Your mobile Number or anything.
Steps to add or change OEM Logo in System Properties
To add the logo to System Properties, you need to satisfy below three conditions.
The image file must be saved with the .bmp file extension.
The image should be named oemlogo.bmp and should be kept in Windows\System32 Folder.
The images should be about 180 (width) x120 (height) pixels.
Step 1: First, create the image using any photo editor. You can use Paint Brush editor and create an image of 180*120 pixels. Its width or height can be less than 180*120 but cannot be greater than the specified limit.
Step 2: Now, copy the image to the System32 folder. Open the Run dialog box, Go to Start –> Run, and paste the below path into the Run dialog box to open the System32 Folder.
%Systemroot%\System32
Paste the oemlogo.bmp image in the System32 folder. Now, check the Logo on System Properties.
Note: Image will not be shown if OEMINFO.INI is not present in the system32 folder.
Subscribe to Techie Inspire for the latest Tricks, Tips, Guides, and much more