Update: Yahoo Messenger has been discontinued and shut down its service completely.
After posting an article on multiple instances of Yahoo messenger, a few readers came up with a good question. They asked us, "How to detect someone's status, which is really offline or pretending to be offline." 
It is something that most of them do, trying to pretend offline, but in reality, they are online and invisible. This guide will show you how to detect hidden users on Yahoo. Obviously, everyone would be interested or eager to learn how to see people's status, i.e., Offline or pretending to be offline.
Most people pretend to be offline using the invisible option in Yahoo's messenger. People who pretend to be offline may not be interested in chatting, or they don't want to disclose their presence.
This trick may help many guys and girls who want to know whether they are avoiding them.
There are some third parties online services and software available on the Internet. However, I recommend using online services instead of software.

Below is the list of some of the most popular online services and software that can detect invisible users on Yahoo.
The below online services are free of charge, and no registration is required. Enter the Yahoo-Id of whom you need to check the status.

1. Detect Invisible – Detect Invisible is a free invisible user detector. While testing, the results were correct and excellent. You can use this not only to detect yahoo but also to detect an invisible user in Hi5 and Facebook.
2. Y Detector – Y Detector checks Yahoo's status online. I have tested this site, and it works well and shows the correct results.
This is an example of how it works. You need to put your Yahoo id and click on search. The example shown in the image shows that I am pretending to be offline using invisible, and using YDetector.com detects that I am not offline but invisible.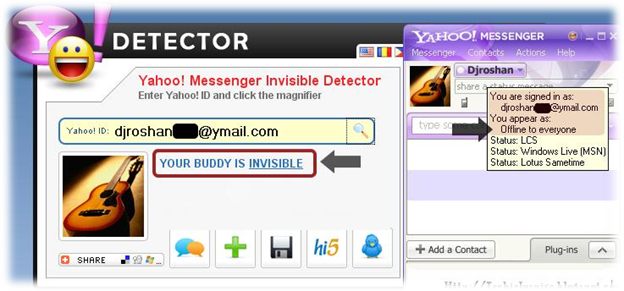 3. Invisible – Invisible is another Yahoo Status checker that works well and shows the correct result. However, we found this site to be down sometimes.
4. Status Detect – It's a free online service. This site is well-designed and works excellent. We tested this, and the detection of Yahoo's status for invisible is correct and shows the proper result.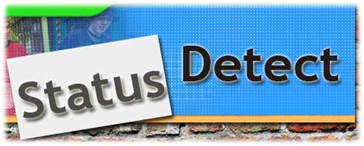 5. vizgin – This is a free online service wherein you can detect the status of an invisible user on yahoo. We tested this, and it works fine and displays the correct results. Additionally, it also shows Yahoo id avatar.
There are some softwares also available which will check Yahoo user id Status. It's always better to use online services instead of installing software. However, we are listing some of the popular software for the same.
1. Buddy Spy – this is not an online service. Buddy Spy is a little program that you can download and install on your computer. It detects multiple user-id, but I don't recommend this because you have to log in using yahoo-id, and it is third-party software that you need to install on your PC. It always a risk of malware or spyware when installing unknown third-party software
2. BuddyCheck – Another program that you can download and install, which will show you exactly who is online and who is offline, But it's not free. You have to pay for this about $20.
If you know any other sites that provide the invisibility status of Yahoo user Id, please share them in the below comment section. If any of the above sites are not working or showing the wrong result, please help us by informing us in the below comment section so that we can update the same in the article.
If you found the above article interesting, then subscribe to Techie Inspire.