Today, things have become so portable that you can carry your music, videos, important files, portable applications and even stored passwords on USB Drive. Flash Drive has now become a personal drive among people which they carry along with them. Though we are able to carry almost all our data, but ever wondered to carry your mail along with you where you don't have any access to the internet or laptop with mail client application. Often, people find the need to access their mails or archived mails where there is no internet connection.
We all usually use some mail client like Microsoft Outlook to download mails from the server (like Gmail, Yahoo, Hotmail, etc.) i.e. via POP3, as a result all mails are downloaded to the system and can be accessed and read even in Offline. Though we are able to read the mails in offline but there is no such portable Outlook application, which can work from the USB drive itself, though Outlook is itself a huge application to work in portability. As of now, we have no major mail client, which offers such a portability option.
Recently, we have been working with a popular tool named MailStore, which is a perfect solution to access mail's offline. Just copy or archive mails from Outlook PST Files or mail servers to a USB using MailStore, plug USB on any system, access the portable application and access all archived mails on USB in offline. Once application open from USB, all mails can be viewed and read in Offline.
Why Backup Email on USB?
This question would rather be more answerable if you ask yourself. How important is your mail? Backup of email on USB will provide an easy offline access anywhere you want. If you are into business or a dealer, it becomes very important to store all previous mail for later reference, so that in case you need to check any mail in which you offered any offers or proposal made on specified date or people. Today, nothing is guaranteed even not the mails stored on the server. It is always recommended that, all important mails to be stored as archive and storing on USB can be your another mail archive storage location.
How to Backup your Emails
Step 1: Download & Install MailStore
MailStore is free portable application. Download MailStore and Install it on USB Drive. It is important that this application to be installed on the USB Drive or extract the MailStore installed files on USB.
Step 2: Archive Email
Once application is installed or copied on Flash Drive, Run the application from the Flash drive. Now in MailStore Start Page, Click on Archive E-mail.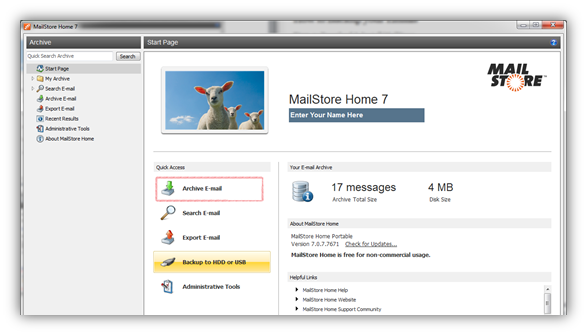 Here, you can import mails from the mail server directly i.e Gmail, Yahoo, or any other mail servers, which support mail downloading via POP3 or IMAP. You can also archive mail from mail clients like Microsoft Outlook, Windows Live Mails, etc. Here, I am importing mails from Outlook PST.
Once you import all your mail from different email address or mail clients, all email messages will be saved in one central location in your USB. In case you have a larger mail box, you can also specify criteria to skip mails while importing to MailStore. You can either search your mail using different profile created in MailStore, or you can search using the search box in MailStore. You can also copy your MailStore from one USB to another or even to your Dropbox.
Few Features which makes this a great tool.
1. Backup of important mails on a safe location
2. Backup of mails which are larger in amount of data containing all past emails.
3. Email can be restored via handy export features in MailStore.
4. All multiple mails can be stored in one central location and can be used to search mail from one place.
5. Convenient way to carry and access your mails from anywhere you want.
Note: MailStore is just an mail archive storage to access mail on USB as offline and cannot be used as mail client. MailStore cannot be used to compose mail or send mail.