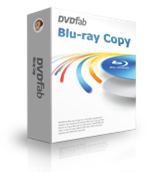 Recently, we posted a review on DVDFab DVD Copy, following to that article. We received many questions from our reader asking about Blu-ray, "How good is the software to make Blu-ray copies? Does it include decryption to remove copy protection? How good is the software to covert files in Blu-ray format, i.e. M2TS? etc." Since, Due to the demand for HD video and audio content, people are getting more attracted to Blu-ray Technology.
However, to enjoy the Blu-ray technology, you need to have a better software. Though, we have many software in the market for Blu-ray but most of them are not capable enough to Copy most Blu-ray discs with copy protection. Most software doesn't even render the true HD Quality output when converted into Blu-ray.
What is DVDFab Blu-ray Copy?
DVDFab Blu-ray Copy is a popular and most highly rated software in the market. DVDFab Blu-ray Copy provides a wide range of features, i.e. Clone/Burn/Decrypt/Copy any Blu-ray Disc, multi core CPU support, NVIDIA CUDA Technology and powerful built-in decryption that can remove the latest Blu-ray copy protections.
Features:   [rating:4.5]
DVDFab DVD Copy can remove any Blu-ray Copy protection from Movies, Games or other DVD Discs including the newest MKB v26 and bus encryption.
Its ability to copy at a super fast speed due to its multi-core utilization support.
Its ability to backup Blu-ray to hard drive.
Its ability to use NVIDIA CUDA Technology for faster copy speed.
Its ability to remove HD audio for better compression.
Burn Blu-ray movies to any Blu-ray disc like BD-R 25, BD-RE 25, BD-R 50 and BD-RE 50, besides it can also burn media on blank DVD disc i.e. DVD+R/RW, DVD-R/RW, DVD+R DL and DVD-R DL.
DVDFab Blu-ray Copy does a brilliant job of cloning in 1:1 ratio without any loss.
Ease Of Use:   [rating:4.5]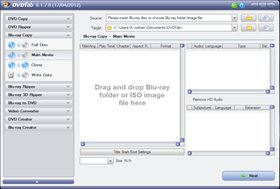 DVDFab Blu-ray Copy is a user friendly software. Not to be confused with DVD Copy software, both software's are same but with different module included in a single software which we quite like it. Suppose you buy Blu-ray Copy license, once license is activated in the software, now you can use all Blu-ray functions in the Blu-ray Copy module included in the software but might not be permitted to use other modules like DVD Copy, DVD Ripper, etc., since you would require different licenses for the other module.
Output Quality:   [rating:5]
We are most upfront when it comes to quality. Since in the end, we all are concerned with the quality of the output. As per our Quality check testing by our team, we find the software has benchmarked some impressive result on our test. The Conversion quality was quite amazingly perfect. Due to NVIDIA CUDA Technology, it can copy at a much faster speed. We also tried to do a compression on converted files and only a minor difference in quality could be seen in the video.
Summary:
Overall, DVDFab Blu-ray Copy software grabs a 4.5/5 stars rating. If you are looking for a good Blu-ray software with excellent features and output quality, then we would definitely recommend you this software.