Do you want to watch your favorite DVD movies on your mobile device or any other display devices in a different file format like MP4, AVI, MPEG-4, DivX, Xvid, FLV, WMV, etc.? Then you will need a good DVD rip software. One of the popular DVD Ripping software is DVDFab DVD Ripper that can rip any DVDs and convert DVDs to any file formats that can support your various devices such as mobile phone, iPhone, iPad, PS3, Xbox, other media player and display devices.
Features:
Rip and convert any DVDs
Rip DVDs to all popular video/audio file formats
Can support almost any multimedia device
Conversion is faster
User-Friendly Interface
Once DVDFab installed, it offers many tools/products, including DVD ripper. We did review DVDFab DVD Copy product earlier and if your need is beyond just copy/clone/burn DVDs and rather wanted a powerfully ripping software, then you should definitely try DVDFab DVD Ripper.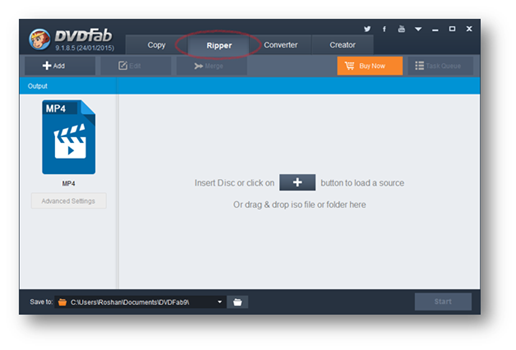 After launching DVDFab DVD Ripper application, insert the DVD disc into your cd tray that you want to rip. Once DVD inserted, it will automatically select source as CD drive, and it will automatically scan your DVD files. Click on Output and select your desired output file format or device. The converted files will be saved in default location as mentioned in the application "Save to" drop down option below, however, you can also change the path if required. Click on Start button to start ripping the DVD.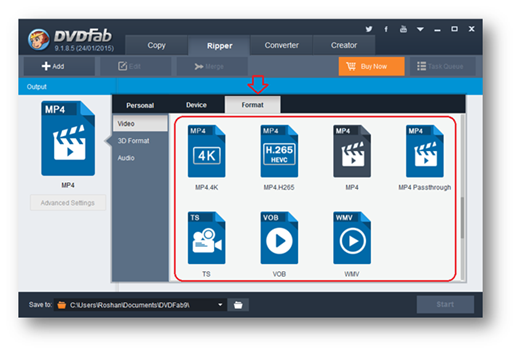 Certainly, the software is user-friendly for all beginners as well as for expert users since it allows all the basic and advance features right under one hood in an efficient manner that it doesn't make the interface to look complicated. Most users are not at all aware of different file formats such as MP4, MPEG-4, DivX, etc. that their device supports. However, the software does provide an option to select devices in which they want it to be converted. For Example, If you want DVD to be converted for the iPhone, then just select device as iPhone and the settings will be auto configured for the output video to be played perfectly on the iPhone.
Additionally, the advance user can go beyond the basic and can customize the video format, resolution, size, aspect ratio, bit-rate, frame rate, etc. You can also add your audio and subtitles for the output. Due to Multi-Core, NVIDIA CUDA and Intel Quick Sync CPU acceleration technologies, conversion speed is very fast and doesn't take long time. It also supports batch conversion where you can simultaneously rip more than one DVDs at a time.
Conclusion:
DVDFab DVD Ripper is an excellent software to rip DVD to your favorite devices or file formats easily with just few clicks. If you are looking for good DVD Rip Software, then we recommend trying this software.
Review Overview
Summary : We recommend this software for your DVD Ripping software problem.