Facebook is one of the biggest and most widely used social networking sites. There are many social networking sites available on the internet, among which Facebook is one of the most popular ones. Apart from being the best social networking site, it is also the largest photo-sharing site. There has been a huge rise in the number of photos shared on Facebook every day, or should I say, "In every second." I had read an article in "USA Today" with a headline saying "At Facebook… 1 second = 750 photographs".
According to Facebook Stats, around 3 billion photos are getting uploaded in a month, making 70 million a day. When it comes to comparison with Yahoo's popular photo site "Flickr", Flickr gets 5 million photos a day.

Previously Facebook never had an option to download all images at once, and the only possible way was to save them one by one. However, in a recent update from Facebook, we can now easily download all data from your Facebook account. Moreover, we will also share some other possible ways to download your pictures from Facebook.
Method #1: Download Photos from Facebook
Facebook now provide you with an option to download all your data including – photos, videos, contacts, wall post, chats, and all other personal information about you. We have already covered a detailed article on how you can backup and download all your data from Facebook.
1. Login to Facebook Account and Navigate to "Settings".
2. Click on "Your Facebook Information" and go to "Download your Information" and click on the "View" button.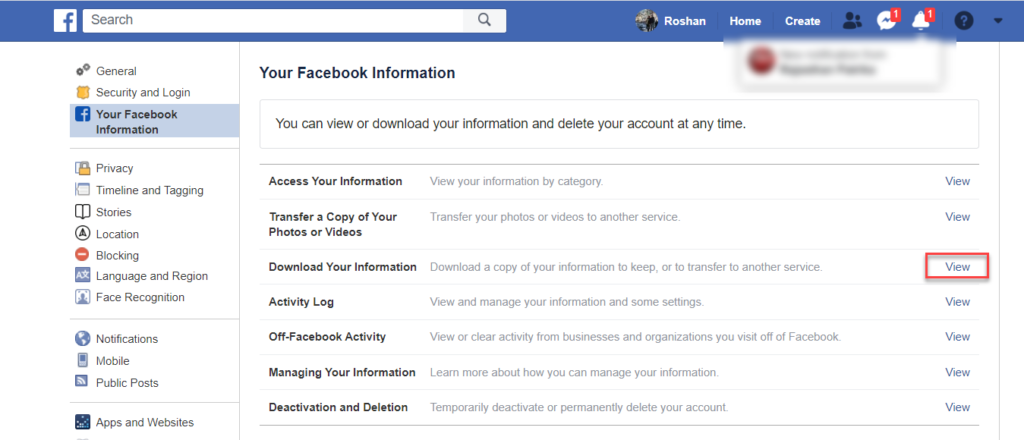 3. Since, we are interested to download photos, you can select just the option as "Photos and Videos" option under the Your Information section. Now, click on the "Create File" button.
You will see the confirmation message as below.
4. Once the file is ready, you should receive an email notification from Facebook to download it. Navigate to the same page and click on the "Available Copies" tab and click on the "Download" button.

Alternatively, you can also download your albums from the Facebook Albums page.
Method #2: Download Facebook Photos using DownAlbum
DownAlbum is an add-on that is available only on the Google Chrome web browser. This tool helps you download all images from your Facebook Albums. Now you might be thinking that when you can download images directly from the Facebook albums page, then why you will use an add-on tool to download images.
Facebook does provide you an option to download your albums, but this option will only be visible on your profile albums and not for other profiles. With this tool, you can not just download your albums but also albums from your friends' profiles.
1. Install DownAlbum extension on your Chrome Web Browser and Activate the chrome extension.
2. Login to Facebook and go to the photo album page of your profile or your friend profile that you want to download.
3. Click on DownAlbum Chrome Extension when the Facebook Album page is opened, Now, click on the "Normal" button and it will start loading all images.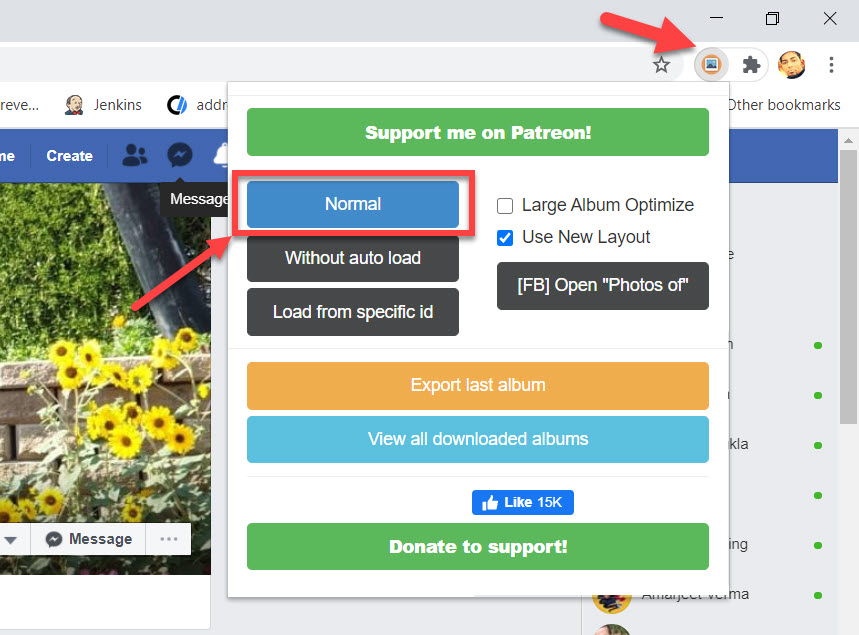 4. Once all images are loaded, it will display a new tab showing instructions to download the photos to your computer. On windows, press Ctrl + S to save your images. It will save as an HTML file, where all photos will be present in the folder.

Method #3: Download Photos from Facebook using ODrive
Odrive is a cloud-based storage system that syncs data from all your account under one folder, making it very simple to access and organize your data. Currently, Odrive supports linking your accounts with Amazon, DropBox, Box, Google Drive, Slack, Facebook, and many others.
When you signup with Odrive and link your Facebook account, you will immediately see a folder created for your Facebook. Odrive will automatically start syncing all your photos, videos, and albums in the folder of Odrive, also including photos that your friends have tagged you. All data are synced and sorted by year, so it becomes very easy for you to find any photos or videos specific to some period. To sync all Facebook Photos to your computer, you need to install Odrive on your computer and sync all data to your computer.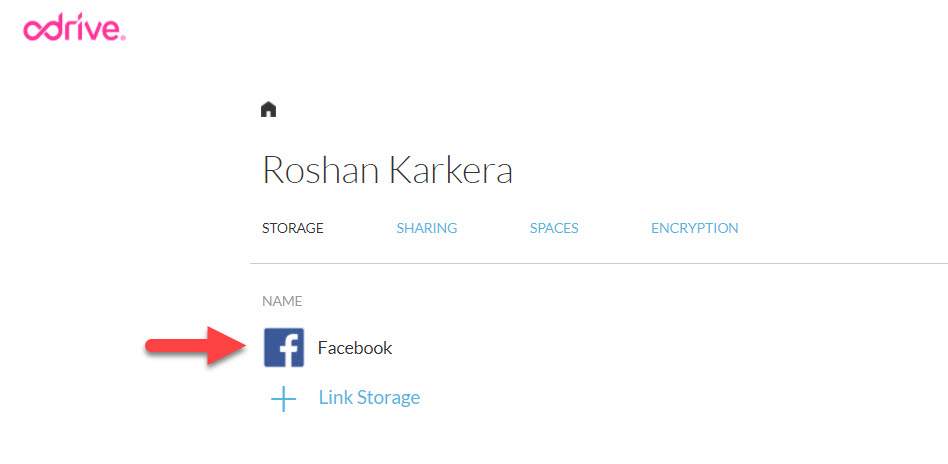 If you find this article impressive, kindly do share and subscribe to us.