Universal Serial Bus (USB) is a way to establish communication between devices and a host controller (usually personal computers). As we all know, Today Generally we use the USB 2.0 version of USB. The usage of this interface is so common ranging from peripherals such as mouse, keyboards, digital cameras, printers, personal media players, flash drives, and external hard drives. As Time changes the storage capacity has also changed from Gigabyte to Terabyte, Today data are in big gigantic sizes and to copy such files to a portable hard drive may take plenty of valuable time. People felt the need for speed and demanding bandwidth is not just enough.
This is where USB 3.0 comes in the picture, the Future of USB standard. USB 3.0 is the next major revision of the Universal Serial Bus. In 2007, Intel demonstrated SuperSpeed USB at the Intel Developer Forum. USB 3.0 specification was completed on November 17, 2008. As such, the USB Implementers Forum (USB-IF) has taken over managing the specifications and publishing the relevant technical documents necessary to allow the world of developers and hardware manufacturers to begin to develop products around the USB 3.0 protocol.
USB 3.0 promises the following:
Higher transfer rates (up to 4.8 Gbps)
Increased maximum bus power and increased device current draw to better accommodate power-hungry devices
New power management features
Full-duplex data transfers and support for new transfer types
New connectors and cables for higher speed data transfer…although they are backward compatible with USB 2.0 devices and computers (more on this later)
What is the difference between USB 2.0 and USB 3.0
Speed: USB 3.0 is 10X faster than USB 2.0. The theoretical speed of USB 2.0 is 480 Mbps, while USB 3.0 can theoretically handle up to 5 GBPS.
Power: USB 3.0 provides 50% to 80% more power when needed. The more hungry power devices could be directly powered through USB 3.0. At the same time, USB 3.0 is also powered efficient; Less power is used when needed.
Compatible: USB 3.0 is Backward compatible with USB 2.0. It can also be used with a USB 2.0 Port and achieve USB 2.0 performance.
How can I connect the USB 3.0 product to my Pc?
After reading this article you may be thinking, how can I move on to USB 3.0? Many motherboard manufacturing companies are now introducing USB 3.0 to their board. You can either buy a new motherboard or a PCI-E add-on card If you don't want to spend money on a new motherboard, then it's better you go with a PCI-E add-on card.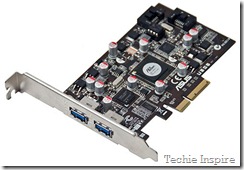 Reference: everythingusb.com