Many Laptop's and desktop's has an in-built capability of backup and recovery for your system. Manufacturers like HP, Lenovo, Dell and Toshiba use their own backup and recovery program utility. This program keeps your system image on a separate disk partition and can be used to perform recovery in an event of system or boot failure, etc.
In an unforeseen event, when your system crash, boot file missing, or you end up with the most common error on windows such as"Operating system not found". The probability of getting it repaired or fixed is very low using the Windows Recovery or CD Tool. People always end up reinstalling the windows. However, using the manufacturer's recovery utility program comes as a life saver that restores your PC to factory setting as it was shipped originally, but you still lose all the files since the recovery partition image will only contain files and program that came along when you purchased your desktop or laptop.
AOMEI OneKey Recovery is handy free utility that can create a custom recovery partition that takes the backup of your system current state hence when you perform recovery, you will see all files; programs and customization are preserved. This recovery utility tool does prove to be a reliable and efficient since the default manufacturer recovery utility tool only recovers your windows to original state and not to the current state hence losing all files and program that you were worked on so far. On other hands, once backup created using AOMEI OneKey Recovery, you can easily perform recovery by going into the AOMEI recovery environment by pressing "A" or "F11"key during system startup.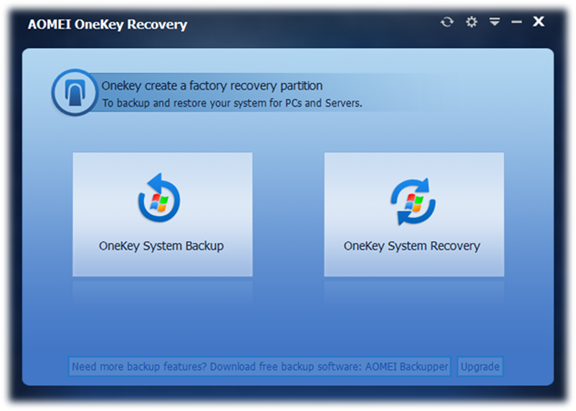 Features:
Easy Back-up by creating a recovery partition to save backup images
Back-up can also be stored in other location such as external Hard drive, USB Drives, etc.
Recovery partition are hidden by default hence protect from modification or deletion
Easy Recovery that allow your computer to restore to factory settings or previously backed up state.
Access Recovery environment on system startup using "A" or "F11" key.
Supports Windows 10/8.1/8/7/XP/Vista
Conclusion:
AOMEI OneKey Recovery is a great tool, if you are looking to create a custom recovery partition disk based on your current system state. Due to the wide range of system support, it can be used with any Laptop and Desktop systems.
Review Overview
Summary : Recommended software to create custom Recovery Partition Disk