Teamviewer is a computer software for remote control, the transfer of Files between computers and desktop sharing. The software is compatible with Microsoft Windows, Mac OS, Linux and Android OS.
Who use Teamviewer 6?
The best tool ever when it comes to sharing of desktop with others. It is used by many corporate and IT professional. This is also used for personal use too.
How Easy is This?
When you open Teamviewer 6 the software looks like this:
It consists of two tab options:
Remote Control
Presentation
In Remote Control, we have two options: Allow Remote Control and Control Remote Computer. Allow Remote Control consists of two Fields, Your ID and Password.
If you want to allow your friend or any person to remote access your computer, you can give him Your ID and Password. This ID and Password is automatically generated by this software.
In case you want to control your friend's PC or any person's PC, you need to just get his/her Partner ID and ask him to share his/her Password. There are three types of connections available to connect to your Partner:
Remote Control
File Transfer
VPN
You first need to enter Your Partner's ID and then you need to select Remote Control and then click on Connect to partner.
As in the below screenshot, you will be prompted to enter your Partner's Password and after entering the Password, you will successfully be able to Remote Access your Partner's PC.
As you see in the below screenshot, this is the preview of the Remote Access of your Partner's PC.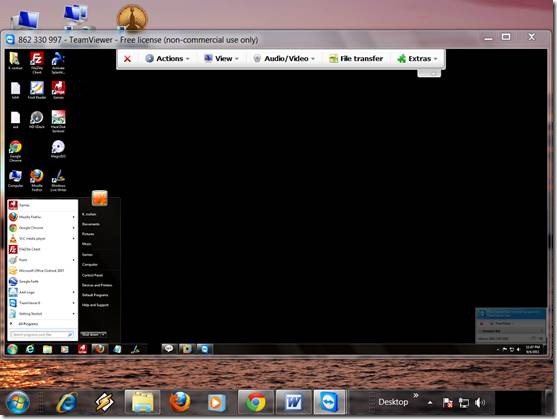 For File Transfer, you have to follow the same procedure, you have to enter Partner ID, select File Transfer and then click on Connect to partner and then enter Partner's Password and you will see the screen as in the below Screenshot.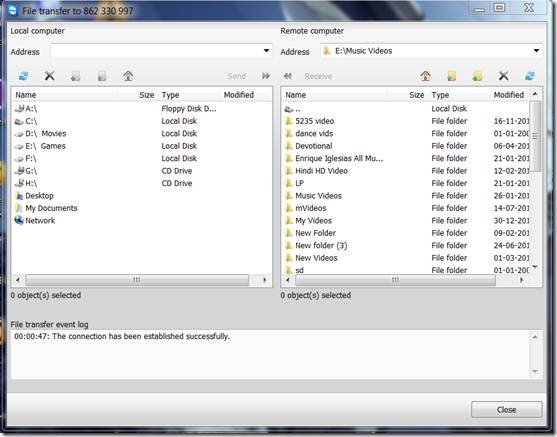 On the left side you will see your PC's data and on the right side you will see your Partner's PC data. You can select any file you want as per your need and then click on Receive which is just below the address bar of the Remote Computer.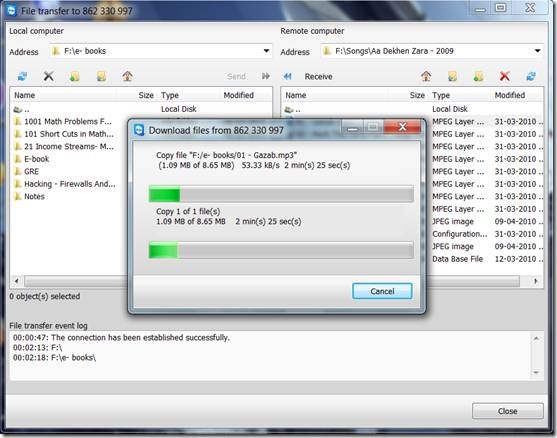 As in above Screenshot, you see I have selected a File and click on Receive and then it shows as Download Files from 862 330 997 (Partner ID).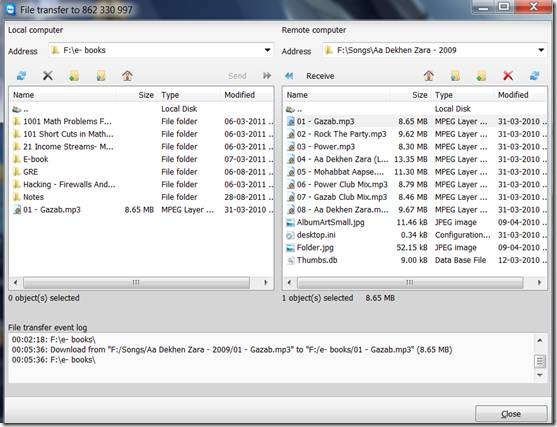 When you have completed the File Transfer, the screen appears as above. The Files which you have received are shown in the File transfer event log.
In the Presentation Tab, if a main computer is hosting a presentation, and if you want the same Presentation to be viewed in many other PC's you can make use of this feature of Teamviewer. This can be useful in the Corporate world. It follows the same procedure as explained in Remote Control of Teamviewer.