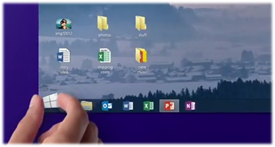 As the release dates are coming near for Windows 8.1 release, Microsoft is getting ready for the marketing campaign for Windows 8.1. Microsoft has recently uploaded a new video on YouTube showcasing the features of new Windows 8.1. The video is a short commercial ad of thirty second, which is also expected  to be seen on TV commercial as well.
Microsoft has realized the importance of its start button, as they had completely removed it from Windows 8. However, the Windows Start button is back, and Microsoft is highlighting the return of Start button in Windows 8.1 Video. It also demonstrates, the ability to customize your Start screen with different title sizes and also showcases the feature of snap mode where users can snap more than two apps in the snap mode.
As said earlier in our previous post, Windows 8.1 update would be available for download on 17th October on the web and will also hit the stores on 18th October. All existing Windows 8 users can update to Windows 8.1 free from the Windows Stores.
Below is the Commercial Video from Microsoft, which was uploaded on YouTube. Check out the video and let us know what you think about this commercial video.
VIA: YouTube