This guide will show you how to back up data from your phone to your computer using PC Suite. PC suite can backup SMS, Contacts, Images and Videos, Bookmarks, and other settings from the phone memory and memory card.
We all know the importance of data on our phones like SMS, Contact, Images, etc., which are very important. So it is very crucial to backup the phone. If in case you accidentally delete your important contact or SMS from your phone, you can use the restore option in the PC suite to restore it from your previous backup.
This Guide is Tested using Nokia Symbian Phones supporting S60v2, S60V3 & Later versions of Symbian.
Why Backup and Restore Mobile Data?
Nothing is safe in this world; if your mobile gets infected, you have to reset your mobile, which will delete all your data. Or you may accidentally delete your data; in such case, you have no option except to regret yourself.
How to Backup and Restore Nokia Phone using PC Suite
To create Backup
1. Connect the mobile to PC using Nokia Pc Suite. If you don't have Nokia PC Suite, then download it from Nokia Website.
2. Now Open Backup (Content Copier) from Nokia Pc Suite Or Go To File –> Backup.
3. Now, there is two options Backup and Restore. Click on Backup.
4. Select what you want to backup from the available option, i.e., SMS, Contact, Notes, etc., and click Next.
5. Store the backup where you need it.
e.g. C:\nokia backup\myfirstbackup.nbu
Your backup should create successfully.
To restore data to the phone from the PC
1. Open Backup (content copier from Nokia Pc Suite)
2. Click on the Restore option.
3. You can scan the PC for the backup file saved with file name .nbu, or You can manually give Path as we used earlier, i.e., C:\nokia backup\myfirstbackup.nbu.
4. Select the checkbox you want to restore and click on Next.
5. Now, If everything goes correct and done successfully, your phone will asks to restart. You have successfully restored your phone.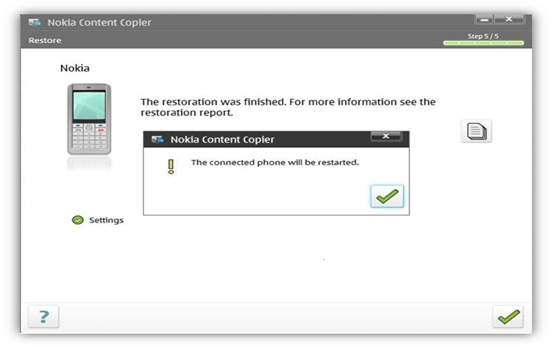 Subscribe to Techie Inspire for Tips, Tricks, Guides, and much more.