People have already started switching to Facebook timeline. The new Facebook Timeline been very interesting and fun but what's more interesting is its cover page, which gives a different look to your profile and looks more appealing and professional. In case you have not switched to Facebook Timeline then switch to Timeline now which is now available worldwide.
What is Facebook Cover Page?
Facebook Cover page is big image shown at the top of the Facebook Timeline page. This place is where you can add images to support any causes or wedding images, vacation images or use your creativity to express a bit more about you. This remains unique to your profile and will be visible to all, the same as your profile picture.
Steps to be Followed:
On the right side of your profile picture, you will see 'Add a Cover' button. Once you click on the button you will see 2 options as:
1. Choose from photos
2. Upload Photo.
You can select any option as per your need to get the photo of your choice for the Cover page of your Facebook Timeline. Once you select the photo for your Cover page, it will show the particular photo in your profile and on top of the photo there will be something written as 'Drag to Reposition Cover'. You need to drag the photo to reposition it as it suits the profile. Once you are done, click on Save Changes and there you go, you have successfully added a Cover Page for your Facebook Timeline. It will look as in the below screenshot: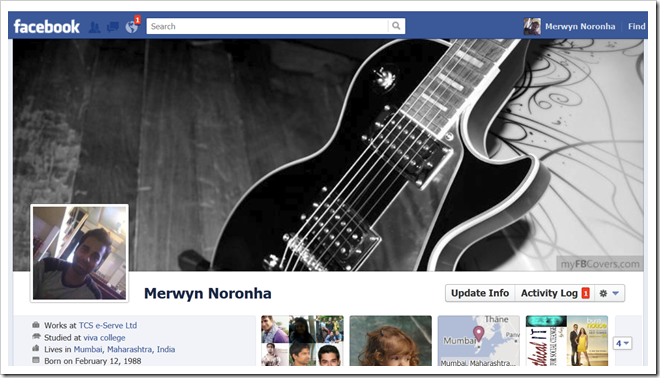 Note: Your cover image has to be at least 720 pixels wide.