April 2022 Update: UnoTelly website seems to be down and appears that they have stopped their Smart DNS or VPN services. 
Today, people prefer to watch their favorite TV shows and movies via online streaming. Some of the popular TV online services are Netflix, Hulu, and YouTube. Unfortunately, due to country boundary restrictions, these channels are restricted to specific country viewers. So, if you stay outside North America and other countries where Netflix is not available, you won't be able to stream NetFlix. Even though you bought yourself good streaming media players like Roku, Chromecast, Google Nexus Player, or Apple TV, you will not be able to stream channels that are not available in your country.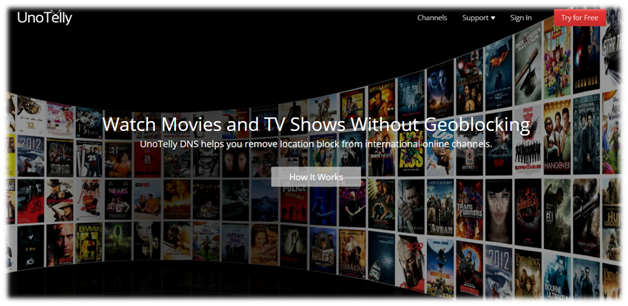 What is UnoTelly?
UnoTelly (also known as UnoDNS) is a service based on a DNS system that allows you to access worldwide TV channels, including some of the popular Internet TV services like Netflix, Hulu, Spotify, etc. It removes the geo-block imposed by streaming sites and allows you to access geo-restricted TV channels regardless of your location. However, UnoTelly is DNS based service, but it does also support VPN-based services, but the best approach to using UnoTelly is DNS based service.
UnoTelly offers two services that allow you to access worldwide TV channels. The two services are the SmartDNS service and SmartVPN service. The SmartDNS service works just by changing your Computer/device DNS address, and the SmartVPN service would require you to set up your computer to VPN server computer address. However, the best and easiest solution is using SmartDNS in UnoTelly.
How does it work?
Let me make this simple and clear before you get lost with all technical terms like DNS and VPN stuff.
A VPN server works just like an agent working on your behalf for you. When you access any streaming site, e.g., Netflix, it will not allow you to access the content because of the boundary restriction since your location is getting tracked due to your IP address. However, using VPN, it just acts like a middle man between you and the website you want to access. When you access the website, the request is sent to a VPN server that is located in that country. The VPN server will access the website and forward the content to you. The streaming site will never come to know whether any geo-restricted country has accessed the site.
Though it sounds like a very nice solution, but it does have some serious drawbacks. Besides Streaming channel sites, all your Internet traffic will go through a VPN server that, in turn, will slow your Internet browsing. For example, If you access Google.com or techieinspire.com, your request is sent to a VPN server; the VPN server will access the site and forward the content to you.
UnoDNS, on the other hand, provides an interesting solution that allows you to access the online streaming site directly. Once you configure your device/computer DNS address as provided by UnoDNS, it will forward all your requests for streaming sites like (Netflix, BBC iPlayer, Hulu, etc.) and route the packets through the allowed country. All other traffic from your computer will remain untouched and will be routed normally, and hence there will be no lack in speed.
Ease Of Use:
The most interesting thing that we observed was the initial setup in UnoDNS. It is simple to perform the initial setup with step-by-step guides. To use UnoDNS, you would require to configure your device or computer with the DNS that is provided by UnoDNS. It supports a wide range of devices like Windows OS, iPad, Xbox, Roku, and Chromecast. Google Nexus Player, etc.
Once you configure DNS and IP address are updated in UnoDNS, you should see as below. We have configured the UnoDNS DNS address in Windows 8.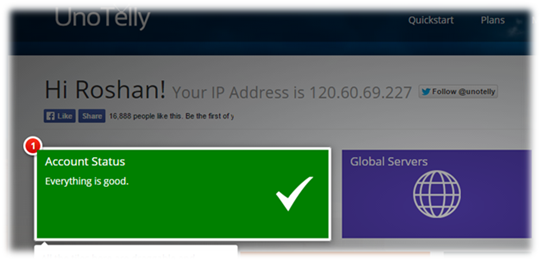 Lots of Channels and options:
UnoTelly offers a wide range of channels to stream TV online. You can view any worldwide TV channel easily. You can also make a request for a channel that is not available. Apart from the offered channels, it also has a wide range of options to configure to view Channel according to the country.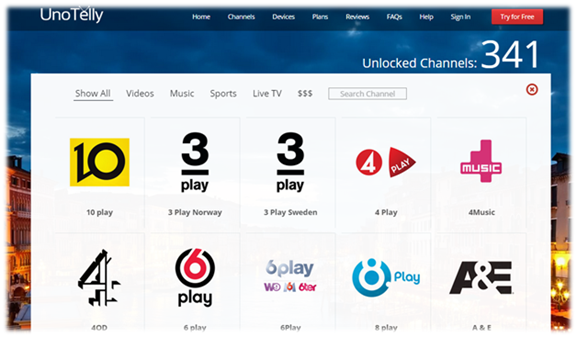 UnoTelly currently offers two packages for a reasonable price. However, if you want to try for a trial period, then it does offer an 8-day free trial.
Conclusion:
Overall, UnoDNS is a great way to access Geo-restricted channels on your computer or devices regardless of the country you live in. The streaming was good without any lag or delay. If you have a Chromecast or Roku or any other streaming device for TV, then it is a great way to watch your favorite channels on your TV without any hassle.
Review Overview
Summary : It is a great way to watch Geo-restricted channels without compromising on speed.