Nothing is safe in this world unless you backup. Even data on DVD gets prone to scratches and finally losses its life and ends up in garbage. People often buy expensive DVD Movies and Game disc but due to multiple use, it usually gets scratched and finally loses the data on the DVD and ends up in garbage. Therefore, it is always suggested that you do a backup of your important DVDs on the system hard drive, or create a copy of DVD on another DVD Disc.
Most of the time, people find trouble doing this with their DVD burner software, because most of the Movies and Games DVD Disc have Copy Protection, which makes impossible to copy such a DVD disc. Some DVD burners are not even capable of doing DVD Rip, Clone, Copy or Decrypt.
What is DVDFab DVD Copy?
DVDFab DVD Copy is a popular and best DVD copy software available in the market. Using DVDFab DVD Copy, you can rip, copy, burn and clone DVD Disc, besides it also supports some of the latest format such as Xbox 360, PS3, PSP, iPhone.iPod, etc. It is capable enough to copy DVD Disc by just using one or two mouse click and can customize the output as required.
Features:   [rating:4]
DVDFab DVD Copy can remove any DVD copy protection from Movies, Games or other DVD Discs.
Its ability to copy discs, which are badly scratched or damaged.
Its ability to copy at a super fast speed due to its multi-core utilization support.
Burn DVD or ISO file / DVD folder on your computer to any blank DVD disc, including DVD+R/RW, DVD-R/RW, DVD+R DL and DVD-R DL.
DVDFab DVD Copy allow users to rip and copy DVD to hard drive as ISO images file or DVD File Folder.
DVDFab DVD Copy does a brilliant job of cloning in 1:1 ratio without any loss and can compress DVD-9 to a single DVD-5 completely with outstanding quality.
DVDFab can Convert video in any device format or video format, i.e. Android, iPhone, iPad,
DVDFab DVD Copy provides 8 different modes to operate DVD Copy software, i.e., Full Disc, Main Movie, Split, Merge, Customize, Customize Split, Clone and Write Data.
Ease of Use:   [rating:4.5]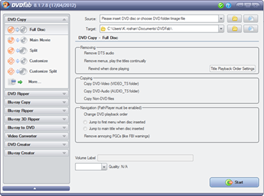 DVDFab DVD Copy does provide a user friendly environment where a user can easily copy disc by just one or two mouse click. One thing which we find very useful is the list of menu in the left pane showing different options, i.e. DVD Copy, DVD Ripper, Blu-ray Copy, Video Converter, etc. under a single screen instead of wasting time in searching in the menu bar. DVDFab also enable a preview screen while converting or copy process just to be sure about the video. The Look is definitely not very attractive, but the feel is sure of you gonna like.
Output Quality:   [rating:4.5]
In the end, it's all about the quality. After testing the software with few other formats and options available, we find the software can rip movies and video very easily without compromising the quality of the video. However, the default setting works just fine for simple copies, but for those who want to customize DVD with special effects like Movie Name and Menu, etc. can very well do it.
We had a hand-on with some other option like Video Converter, which we find very handy and helpful. The quality of the converted video is better compared to other standalone video converters in the market. The video conversion was fast due to its support for multi core processor and didn't impact the system performance due to low system resources utilization.
Summary:
Overall, DVDFab DVD Copy grabs a 4.5/5 stars rating. We would also recommend this software for professional and novice users due to its user friendly feature, wide range of features and options and regular updates to override DVD Copy Protections. However, besides of all this features included, this software comes at very affordable price without letting you to shell out more money from your pocket.