Many people find trouble in understanding some words or statements in the movies/videos, and so it becomes very difficult to understand the movie or any video completely. Especially, when watching any foreign language based films/movies, then subtitle come very handy in understanding the movie and language. Also many of us are keen to learn new words and improve their vocabulary. So we usually download the subtitles from the Internet. There are many sites to get the subtitles for any movie or video.
Sometimes it becomes very tedious job to search and get the correct subtitle. To simplify this task, there is a Sublight app available which is a free application for all Windows. The app supports any type of video irrespective of what is the extension or codec of the particular file. The app has a simple user interface and is easy to use. You have access to millions of subtitles in 46 languages. The best part of this app is that it present with the list of subtitles, choose the subtitle and the subtitle gets placed into the folder of the movie and renamed automatically accordingly to the name of the movie.
Follow the steps given below to download movies subtitles automatically using Sublight:
1. Go to http://www.sublight.me/download site, download and install the application on your respective OS. Once you install the app, you will see the new shortcut icon on your desktop.
2. Open the app and drag and drop the video into the "drag and drop video file here" search box or you can manually search for the title of the movie or the video in the search box besides it.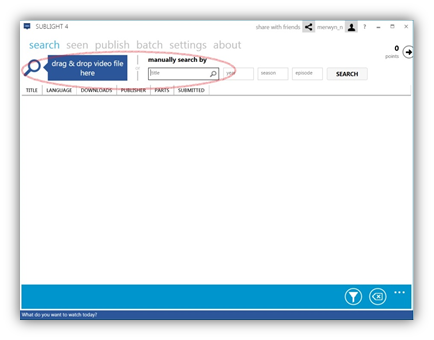 3. Once you drop the file on the app, it will search automatically for the correct subtitles. You will see many records of that particular subtitle with the ratings provided to that particular subtitle by users. You can download the subtitle by double clicking on it from the list as per your choice and the subtitle file will be saved in the movie or video folder. The app also names it exactly so when you play the video it will get loaded automatically. If the video doesn't have a correct name, the app will analyze the contents of the video file and the subtitles will still work fine.
Once subtitle is downloaded and placed in the movie folder, it will automatically open movie with your default player. You should be able to see subtitle displaying on the player as shown below. However, incase subtitle you selected doesn't seem to be in Sync with movie audio then try different subtitle.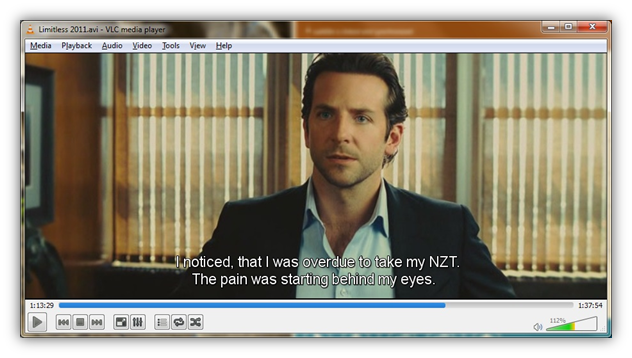 The Sublight app has also some advanced features. You can use the "batch mode" which can automatically scan your predefined folders on your disk and download subtitles for you.