Did you know Instagram is one of the most popular social networking platforms? It ranks third, with a whopping 1.44 billion users! So, do you understand how content creators always share stuff with their audience? They post, share stories, and even create reels to engage followers. It's all about connecting with their audience, you know? When people do this, they get more views, followers, and engagement on their content. You know, like more likes, comments, and shares.
Have you ever wondered what happened to the Instagram pictures you liked? Maybe you're curious about one you enjoyed last week or whether or not you remembered to like your bestie's post. It might be challenging to view a post that you have already loved. As a result, you can always view your liked Instagram posts by checking interactions under your activity.
You need to follow additional steps to view Instagram photos you've liked due to a recent change in the app's user interface. You can easily view your liked posts on Instagram in the mobile app on Android or iPhone.
To view liked posts on Instagram, follow these steps:
Tap the Instagram profile picture given at the bottom right corner.
Tap the hamburger icon (three horizontal lines) on the top bar.
Next, navigate to Your activity.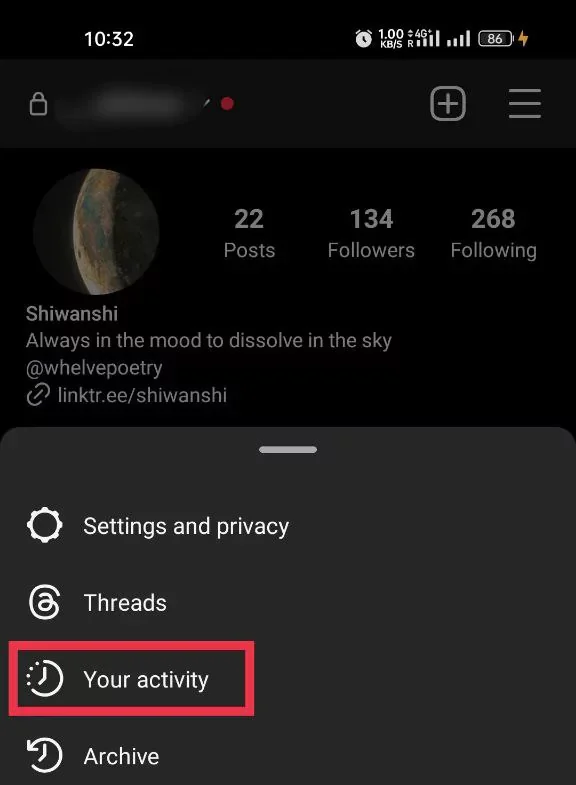 From here, you can select "Likes."
Usually, this feature shows you the posts you've liked on Instagram in the order from newest to oldest. Oh, by the way, if you want to check out the posts you've liked on Instagram, you can simply use the "Sort & filter" menu. It's totally up to you and your preferences! This feature has three options-
Sort by.
Author name.
Dates.
Additionally, users have the option to dislike many photos at once. Thanks to Instagram for yet another innovative change.
Instagram allows you to dislike posts. For instance, when you frequently see advertisements on subjects you don't find interesting. This may be the result of your like postings about this subject. In contrast to the posts, if you don't want to view the ads:
Tap Select.
Select one or several posts.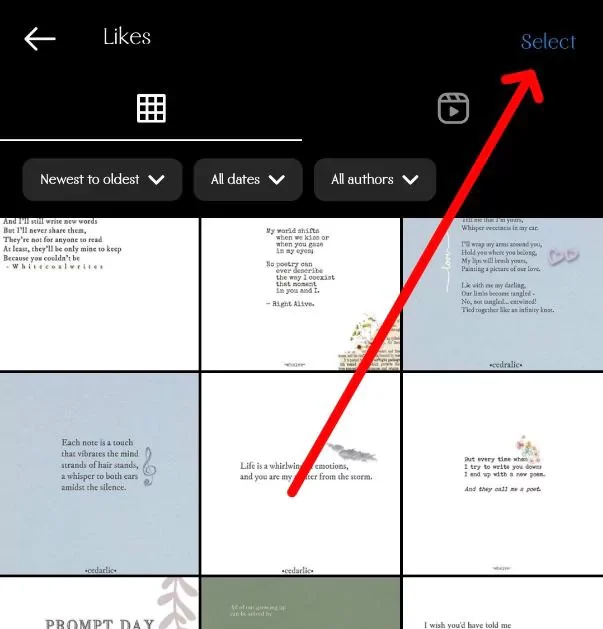 Select one or several posts.
Tap Unlike.
Tap Unlike to confirm the action.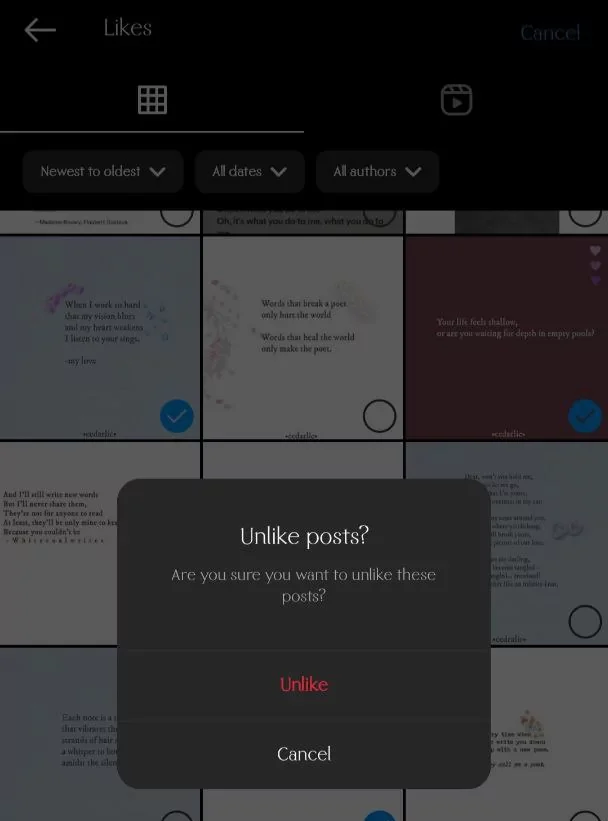 How to look at other Instagram users' liked posts.
It's been ages since Instagram removed that feature where you could see who liked a photo under the "Following" tab. But don't worry; there are still ways to determine who wants what on the app. It's more complicated now.
Oh, quite a few online services let you check out the recent activity of any public account. But hey, we get it if you still need to sign up on another website. No worries! There are some nifty ways to do a little detective work independently.
To check if your favourite Instagram user likes a specific person's photos, you must visit their profile and scroll through their images. Look for that person's username in the likes section. If you're following someone, their username should be near the top of the list of likes when you click on a photo.
Just remember that if someone has changed their settings to hide their activity status, you might be unable to do this.
We get what you're saying about the recent changes to Instagram's interface. It does seem like it's become a bit more challenging to do some harmless internet stalking, right? But it's essential to remember that these changes were made to prioritize user privacy and protect everyone's personal information.
Let's recap
Alright, let's quickly go over what we've learned so far. You can find and see all the posts you've liked on Instagram! They're saved right in your account. We've got some instructions for you: Go to Settings, click on Your activity, and select Likes. Are you wondering about the likes? Information about the like is available only to you. This feature works only in the app.
If you're thinking of returning to your favourite publications often, use the Instagram Collection. You can use it to create collections, give them names, and put whatever content you want in them.
I hope you found this article helpful.