Thanks to the app's voting functionality, WhatsApp users can now create polls in group chats and vote on polls created by others on their friend list. Users of this application can create queries with multiple options. Everyone will then have the opportunity to vote for their preferred option.
In a WhatsApp group discussion, you can create a poll with up to twelve options. The individual can modify the settings to meet their specific requirements. When a new vote is cast, the Poll's results are immediately updated. The identities of those who have voted on the poll will be shown to the user who created the poll. By selecting "see votes" from the menu, they may see the list of those who have voted for the Poll.
How to create a WhatsApp poll on Mobile App?
Step 1: Open Whatsapp app and go to chat screen
Step 2: Click on Attach icon, select Poll option.
Step 3: Enter your question in the box labeled Question.
Step 4: Select Options and then + Add to add choices to your Poll. You may rearrange the poll choices by tapping and holding.

Step 5: To complete your Poll, use the send button.
How to create a WhatsApp poll on a PC using WhatsApp Web
Step 1: Open WhatsApp Web Step 2: Open Attach
Step 3: Select attach and proceed.
Step 4: Open Chat, click on Attach Icon and click on a poll button.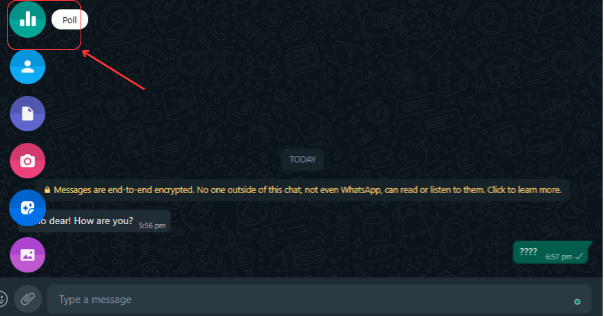 Step 5: Select Ask Question and type in your query.
Step 6: To add a new poll option, type its name into Options and click Add. You may rearrange the poll choices by clicking and dragging them.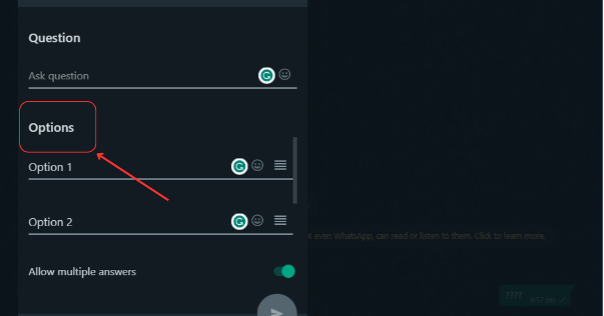 Step 7: The last step in making a poll is to hit the submit button.
Polls can be used for fun and decision making. You can do this by asking questions such, "Which emoji do you think best depicts how you're feeling today?" Pose easy, open-ended inquiries to your friends, such as "What's your favorite place?" or "What's your favorite outfit?" It may allow you to learn more about them and discover things you have in common with them.
Traditional polling approaches include asking people what they believe and gathering data from people in their immediate social networks. For example, where should we go to dine tonight? "What should we do this weekend?" they ask. There are numerous ways to incorporate polls into a debate, and each will undoubtedly improve participation.
Final Thoughts:
Using WhatsApp to create a poll is a quick and easy way to get feedback from close friends and family members immediately. WhatsApp's voting feature is perfect for private and professional use since it is straightforward and keeps track of results in real-time.