Google Reverse Image Search has marked as a true smart search in history of Search Engine. Google and its team has emerged as most innovative products and services delivered by their hard work. Few year back, I was wondering if we could search using the images without entering any text, since it happened a lot of time when I had some images and wanted to have some similar image for the same. If you are also looking for something similar then, It's not too late, you can do that now using Google Reverse Image Search. In Reverse Image Search, you simply drag and drop the image on Google page or insert URL of the image, Google will scan and search for all visually similar images on the web.
Google wasn't the first to use reverse image search technique. There are lots of sites, which started such reverse image search but most people relied only on TinEye. TinEye is a popular site for searching similar images on the web. However, you can do the same thing using Google and the result are surely very impressive.
How to do Reverse Image Search in Google
Step 1: Go to http://www.google.com/imghp or Click Here
Step 2: Click on the camera icon, a dropdown menu would popup asking for image to search. You can search image either by Image URL or by uploading an image from the system.
The best way to do this is to simply Drag and Drop the image on Google image search page. Once Google uploads the image, it will start scanning and show relevant visually similar images for that image.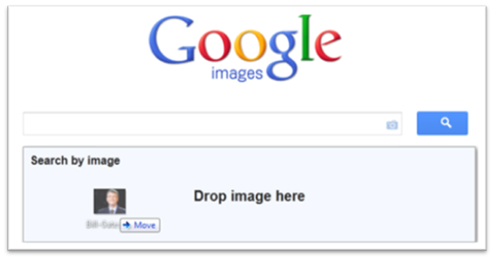 In case, you find images are not relevant or not similar to the image then you have an option to add little description in the search box which would help Google to find more relevant and similar images.
Interesting's things you can do with Google Reverse Image Search:
Facial Recognition: Earlier, I had some doubts about it's facial recognition, as I can't find any details for facial recognition from Google claiming that. However, I tried this and it does search people by their faces. This would be a great way, where you could find your friends on the internet just by searching from their Picture.
Identifying Things: Most of the times you know about its type but don't know their names. For e.g Dogs, flowers, animals, etc. For Instance, If I have an image of a flower and want to know its real name or some information about it, just by searching using that image on Google will let you know more about that image. Now that's a new way to learn and understand using Google.
Identifying Places: There are so many beautiful places and unique wonders in the world. For Instance, If you travel a lot and have some image which you have taken on your trip, you can give a try searching it on Google and Google might surprise you on this. I tried searching images by uploading Eiffel Tower image, California images and some images from new york and the result were truly unbelievable.
That's not all, You can do more things from Google Reverse Image Search. For more Info, check here.