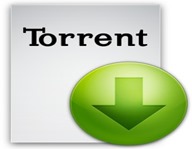 Although today many people are using torrent to download files but still there are many people, who are absolutely unaware about torrent. Lately, we have been receiving lots of emails asking most of the basic question on torrent. As a result, we decided to put a simplified version explaining exactly what is torrent and the basic FAQ.
Honestly speaking, when I got introduced to the computers and Internet, I came to know about torrent. I did many searches on Google "What is torrent", "How torrent works" and "torrent as P2P file sharing" and the answer was never simple. The only thing I understood that I can download files using torrent. Few days later, I noticed that there was nothing much perplexing rather it was just complicated words, which made me difficult to understand initially. Considering the difficulty which I went through initially understanding about torrent, below is a simple guide where I have explained about torrent, torrent client and how you can download files using torrent.
What is Torrent?
Torrent is a small file which contains metadata information about Files and Folder to be shared and a list of network location of trackers, which contains information related to every single peers who are downloaded or downloading the file. Tracker help one to find other peers in the network to download files forming an efficient distributing group called swarms. The torrent file only contains metadata information like their names, sizes, folder structure, and cryptographic hash values for verifying the file integrity. Torrent file always comes with an extension of .torrent, for example: filename.torrent.
A torrent file contains the below metadata information.
announce – The URL of the tracker
info name – Suggested file/directory name where the file(s) is/are to be saved
info piece length – It specify the number of bytes per piece. This is commonly 28KiB = 256 KiB = 262,144 B.
info pieces – A hash list.
info length – The size of the file in bytes (only when one file is being shared)
files path – A list of strings of subdirectory names and file names
files length – The size of the file in bytes.
I believe now you know very well that what exactly the torrent file contains. Now, when you download any torrent from any Torrent Sites, you should be able to get a file with .torrent extension. In order to use the torrent file, you would require BitTorrent client, i.e. Torrent program. BitTorrent client is actually a kind of file sharing software where you add your torrent file and start downloading from other peers. There are many BitTorrent clients but few popular are uTorrent, BitTorrent, vuze, etc.
Why Torrent is used instead of Direct Download?
Direct download is where users request the file for download from the server. Server processes the request and sends the file to user computer. However, If the download size is huge and larger in size, then it becomes very difficult for the server, since the amount of disk space and bandwidth would be required to process the file transfer from the server to user computer. And when there are more than 10-20 users simultaneously requesting for the same file from the server might affect the server performance and in some case, server might crash. On the contrary, Torrent is peer to peer free file sharing, supporting BitTorrent protocol. The main reason torrent is so popular is because of peer to peer file sharing mechanism primarily aims to share files among each other, which are downloaded by the users. This mechanism keeps the bandwidth down for servers and still people could share files.
However, We cannot ignore the second reason for its popularity. Torrent is also known for piracy for software and media. Because the files are itself never being stored or located on the central server, instead it will be on hundreds or thousand of computers who seed the file once they download. It's merely impossible to stop them from file sharing, and you cannot simply shutdown the server with trackers as they are not involved in sharing file except for the list of peers, since they don't have the copy of that file on their server. So basically they are not doing anything illegal.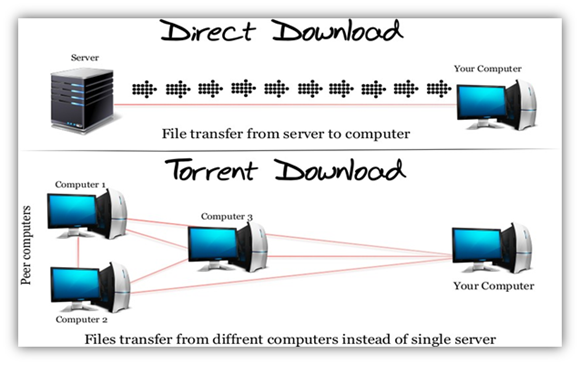 How to Download files using Torrent
1.

Search for Torrent from torrent sites

There are many torrent sites where you can search for your torrent file, for example: e-book torrents, music torrents, etc. Basically there are two types of torrent tracker or torrent sites, one is public and other is the private torrent. Public torrents are available to anyone where as Private torrents are restricted to specific members and only be accessible when they are invited by the private torrent sites.

Some of the top popular public torrent sites are as below:

As an example, we are here using PirateBay torrent site, and we are searching for a video of a movie trailer in PirateBay.
While downloading any torrent, make sure the seeder are more than the leecher or seeder are with good numbers.
Seeder: Seeder is one who is seeding the downloaded part so that others can download from him. The more is the seeder; the more is the speed. Basically, it mean uploading the file for others (leecher).
Leecher: Leecher is one who is downloading the file from others, i.e. from seeders. If leechers are more than the seeders, then speed of the torrent will be less. Basically, it mean downloading the file from others (sources or seeders).
As shown in below, we can see that the seeders are more than the leechers, so we can be rest assured that the speed should be good and will be able to download the file completely. Many torrent clients like uTorrent and others will simultaneously seed while the file is being downloaded.
Important: Always make sure to check comment because, sometimes torrent might have virus or malware, which can be checked by looking at other's comments. Most user comments will also reveal the quality of the file. Other's comment comes very handy and useful.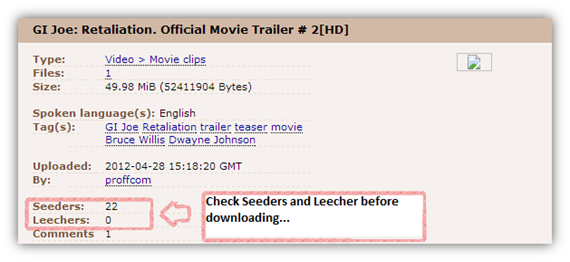 Click on Download the torrent or click on Magnet link to directly add torrent to the torrent clients, i.e. Torrent software. (Note: Piratebay only supports Magnet link)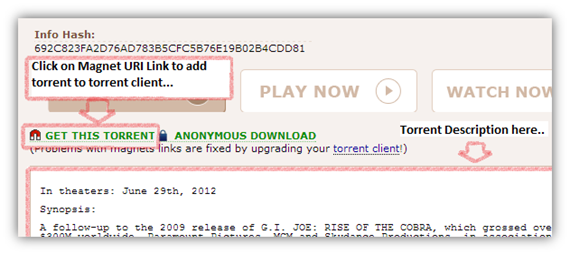 Magnet Link: Magnet link is nothing but a hyperlink which contains hash code for the torrent. You simply need to click hyperlink, and the torrent will automatically be added to your torrent software. The benefit of Magnet link is that you don't have to download the torrent file in order to add torrent to the torrent software. One of the main advantages of Magnet link is that they do not have to store the torrent file on their server anymore, which indirectly saves their disk and bandwidth usage.
2.

Add Torrent to Torrent Client & Download

Make sure you have installed torrent client on your system, if not then install uTorrent or any other torrent client whichever you like.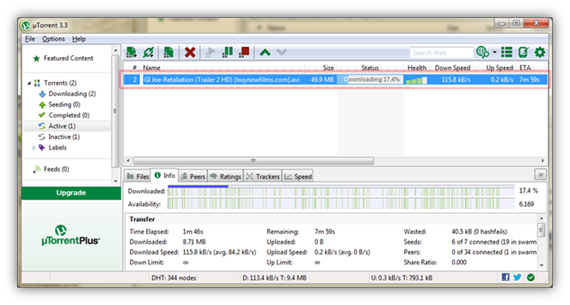 Once torrent added to torrent software, it should automatically start downloading from other peers. Once download complete, it will start seeding. i.e. uploading However, you can stop from seeding but this might effect others download speed. Torrent is all about file sharing, so if you have downloaded and you don't seed then the other people will never will be able to download. So its important to seed back what you have downloaded, so that others can download and enjoy the file.
Please Note: This article is for educational purpose on "What is Torrent and how to download files using torrent" and does not promote or support Piracy, pirated content or any illegal downloads.