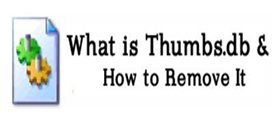 Initially, when I got my first system during my school days and understood some of the basic like virus and antivirus. I consider and treated thumbs.db as a virus because it used to create thumbs.db file automatically as soon as I delete the file. I immediately called my engineer and told about this strange behavior on the system. However, I was amazed when he explained me about thumbs.db. After knowing about thumbs.db file, I was feeling kind of dumb at that point of time. However, it happens with newbies when trying or experiencing some new system or Operating System.
What is thumbs.db file?
Thumbs.db is a thumbnail cache file which is used to store thumbnail images for Windows Explorer's thumbnail view. This speeds up the display of images as the smaller images do not need to be recalculated every time the user views the folder.
Basically, when you view images folder in thumbnail, you would see images showing in small preview (Thumbnail). This thumbnail information is saved in thumbs.db file in the same folder. So, next time when you visit the same image folder in thumbnail, you would see thumbnail images displaying very fast. Thumbnail cache file speed up the showing of thumbnails when you are viewing a folder in thumbnail view.
Note: The Thumbnail cache file is a hidden file. To View these files, Go to My computer –> Tools –> Folder option –> Go to View Tab and put a tick on "Show hidden files and folder."
Disadvantage/Drawback.
Though it seems to be very useful and helpful but may not be a good option for computer with low disk space. Thumbs.db file takes some amount of disk space for every single image. Although the file size or space taken by thumbnail cache will be small. Suppose for 5-6 images in a folder may create thumbs.db files of 7-8 kb. Folder with 500-700 images may create thumbs.db with file size of 800-900kb (Approx 1mb). If your PC has lots of such thumbs.db file on hard-drive which has low disk space, you can save some valuable space on your Hard-Drive by removing the thumbnail cache file(thumbs.db).
In case you try to delete these thumbs.db files, these files are automatically created again. So, we need to disable the thumbnail cache feature.
Follow the below steps to Disable Thumbnails Cache Feature in Windows XP:
1. Open My Computer –> Tools –> Folder Option.
2. Switch to "View" tab, add a checkmark on "Do not cache thumbnails" and Click OK.
Now thumbs.db will not be created. However, this will not affect in viewing the thumbnail. In case, you want to delete all the thumbs.db files from the system then do a search on the system and Delete the files permanently which may save some disk space.
If you found above article interesting then subscribe to Techie inspire.