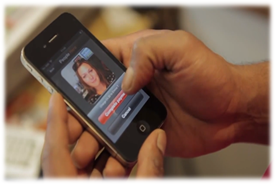 PayPal is one of the global pioneer systems as an e-commerce Online Payments and money transfers solution carried out through the Internet. PayPal is used widely by the majority of people and organizations for business and personal use. In order to perform transactions on PayPal, user generally login to PayPal website and perform the required transaction directly from the web like sending money online, accept payments online, online payment, etc.
Additionally, PayPal is planning to roll out an advanced and better way of performing online  payment using PayPal Mobile app. The idea behind the PayPal app is that, why to carry your wallet when you can pay directly using PayPal.
Using the PayPal Mobile app for iOS, Android, or Windows Phone, shoppers can see nearby participating merchants highlighted on their mobile phones. The shoppers can check into the online merchant store by clicking on its name and can pay for an item by sliding on an animated pin down screen. The person name and photo then pops up on the store's payment system. After the customer agrees to pay for the item, the cashier clicks on the person's photo to complete the transaction. The customer receives an alert notification via phone with the amount paid along with PayPal receipt. Face verification is an excellent method to protect and act as a preventive measure against identity theft.
According to Rob Harper, head of retail services at PayPal said during the release "Through our Richmond initiative, we're pleased to help local businesses of all sizes offer a new more personal experience, while never having to turn away customers who don't have enough cash on them to pay."
PayPal is expecting over 2,000 merchants will be able to accept the PayPal Payment by the end of 2013, according to Sky News.
PayPal is anticipating a change by the year of 2016, where people would use their mobile and tablet to make payment leaving their wallet or purse at home.