If you have a Google+ Account, then this article will be useful to you. If you use your Google+ Account and Gtalk simultaneously, you will have a problem in managing your Gtalk friend list. The list will grow bigger in size as and when you add friends in your Google+ Account. I am not saying to blame your friends for this problem but there is a simple way to solve this problem. You can avoid the large list of friends or reduce the number of friends in your Gtalk and add only some of them by making some changes in your Google+ Account. Follow the steps given below to clean your Gtalk list:
Step 1: Login to your Google+ profile.
Step 2: Now you will see the Stream section in which you will find the Chat option at the bottom of left navigation and then login into chat.
Step 3: Click on the arrow which is on your Chat Profile and then select Privacy settings from the dropdown menu.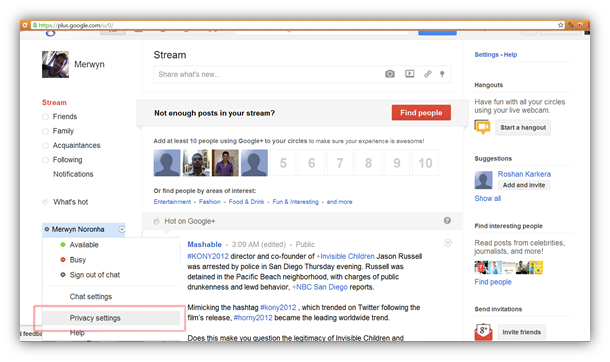 Step 4: Once you select Privacy settings, you may see a popup screen asking to choose circle to chat with.Choose who can chat with you select Custom.
Step 5: Now check the checkbox of the option which you want to keep in your Gtalk list and then click on Save.
Step 6: Now logout and login in your Google+ Profile and Gtalk and you will notice the changes.
Subscribe to Techie Inspire for new Tricks, Tips, Guides and Much More…