The keyboard has three LEDs, which show Num Lock, Caps Lock & Scroll Lock. Usually, we don't use them much except Caps Lock. Since Num Lock and Scroll lock remain idle most of the time, we can make use of them to show network activity on your system. The Led light on the keyboard will start blinking whenever there is sending or receiving of data using the Internet or network. Network Lights lets you monitor network activity (upload/download) from your keyboard ScrollLock and NumLock indicators. Each LED will flicker when network traffic is detected.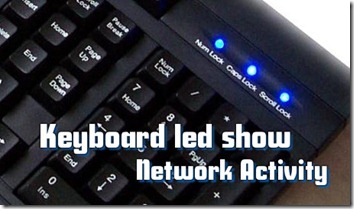 A simple small freeware program called "Network Light" will display it on your keyboard whenever there is network activity. It does not require any installation.
Download Network Lights
Open/extract the zip file and Run Networklights.exe
It will automatically minimize into your taskbar and the keyboard light will start blinking.
If you want to exit this utility simply right click on the taskbar icon and click on Exit
How to remove it?
You don't need to uninstall it since you never installed it, Simply exit the application from the taskbar.