"How to watch movies with subtitles or how can I add subtitle file to movie," this was one of  the Frequently asked question by our readers, without making this article big. I would illustrate in short and show the procedure to use subtitle with movies.
There are different kinds of subtitles available, some of the popular format used today are SRT, SUB/IDX, SSA. However, you will find many movies with subtitle as .Srt file extension since it is one of the popular formats among other subtitle formats and most commonly found in DivX or XviD encoded AVI files.
Follow below procedure…
1.) Go to subscene.com, search with movie title name and download subtitle OR Search in Google, movie title name with text "subtitle" i.e. suppose I am downloading subtitle for Shrek2 I will search in Google "Shrek 2 subtitle"
2.) Once subtitle is downloaded, Copy the subtitle to the same directory where the movie is kept and rename the subtitle file according to movie filename.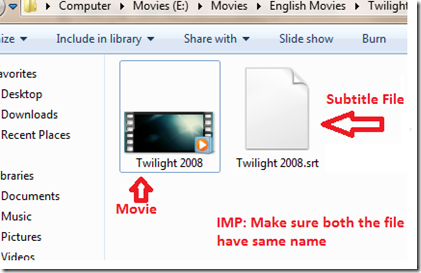 Now Play the movie, You will see the subtitle running in the movie.
There are numerous subtitles for a single movie itself, Since there are lots of pirated movie ripped by many people, you might find some movie subtitle with sync issue. If you find the subtitle is not matching with movie or find any sync issue, then try downloading some other subtitle for that movie. Sometime, you will need to do some trial and error while finding correct subtitle for the movie.
Other sites for Subtitle:
I usually use, Subscene to download subtitle.
There are also some tools available on the internet which would automatically download subtitle files for you, but I would cover on that very soon.
If you find above post on "
How to watch movies with subtitles
" interesting, then recommend others.