Have you ever wondered of locking and unlocking system using USB Thumb/Pen Drive? That Sound unbelievable but that's true, you can use USB thumb drive as a key to lock or unlock your system. If you are looking out some new way to lock and unlock system instead of using the same old password screen, then this might be something of your interest. This is possible using freeware software named "Predator", a freeware software which meant for security purpose of locking and unlocking systems (paid version available too).
How it works?
When USB Thumb Drive is unplugged from the system, it itself automatically locks the system and when plugged in back to the system, it will unlock the system exactly the way you left it. In case of your absence, any intruder tries to unlock the system with the wrong password will play an alarm and will notify you by SMS or E-mail about such an attempt by the intruder.
Check this video here which was actually prepared by lifehacker.
How to do this?
1.) Download and Install Predator.
2.) Insert USB Thumb Drive and Run Predator, Enter the new password, now select the drive in the drop-down menu to select USB drive, Click on Create Key(This will create the key on USB drive) and Click on OK.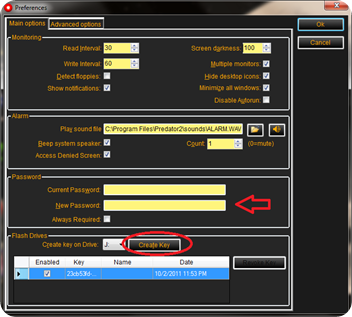 3.) Once settings are configure, Restart the Application and Ready to go.
Try removing Thumb/Pen Drive from the system, it will lock the system when the thumb drive removed.
In case Pen/Thumb drive get corrupted or lost, in that situation you can use another option to login i.e. using password.

 Features:
It can send alert messages by Email or by SMS.
It can records all security-related events in a log file
It can replicate this log on your Twitter account, allowing you to remotely monitor all access-control activity on your PC.
It disables the Windows task manager when you unplug the USB drive. Nobody can stop it with Ctrl-Alt-Del.
It disables the CD Autorun feature in Windows, to prevent intruders from running malware on specially crafted CDs.
It raise an alarm on invalid password entered.
It can protect several PCs with the same USB flash drive
Compatible
Platform
: Windows xp, vista, windows 7, windows server 2003, 2008 (32 and 64 bit)