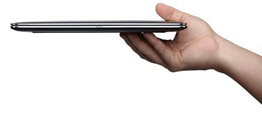 The Ultrabook appears to be the current trend when it comes down to the PC market and has taken over the tech industry in the year 2012. As a matter of fact, most people are getting rid of their old-fashioned laptops in exchange for portable Ultrabooks. Perhaps it's because they are lightweight with great power, convenient, very thin, and can fit just about anywhere so that any type of work can be accomplished.
Nonetheless, it can be quite difficult to choose the right Ultrabook for you. Specifically consumers should focus on its specification when choosing an Ultrabook.
There are four baseline system requirements that makeup the ultra-slim laptop and should be taken into consideration when choosing an ultrabook:
Portability
Responsiveness
Powerfulness
Built-in Security
Their portability allows the battery life to range between five and eight hours, which is comparable to most mini-laptops. In addition to its battery life, ultrabooks are extremely light weight, only being about one inch thick and weighing less than 3.3 pounds. The response and boot times are lightning fast; equipped with the Turbo Boost Technology 2.0 and able to wake up from sleep mode in just seven seconds or less. They do not fall short in the graphics department either, as some ultrabooks do offer discrete graphic cards which can improve 3D performance in Windows 8 applications as well as offer high definition resolution. Lastly, the built-in security and authentication features including finger print scanners, pre-boot authentication, and data protection enhanced with hardware will be included in most ultrabooks—leaving users well-guarded against potential malware. All of this beneficial information can be found online by doing just a little bit of research and knowing exactly what you are looking for and the purpose.
The following specifications are typically asked when choosing an Ultrabook:
What it will be used for
What is your preferable size
What is your preferred operating system (OS)
The required performance rate
The security features wanted

Once you are aware of your certain specifications, you should look into their price ranges. Prices for ultrabooks typically range from around $600 to $1,500 depending on the needs and wants for it. Generally speaking, the specifications required to choose an Ultrabook are its size, response, power, and security features.
There are various utlrabooks users can choose from that meet their requirements. Ultrabooks are a current trend so why stay behind? Keep up with technology and try one out for yourself.
Author Bio: This is a guest post by Courtney Lee, a fellow Envy Ultrabook user who enjoys writing away on topics like social media, marketing, and everything technology.