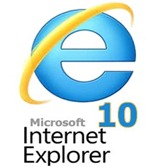 There is a browser war in progress and every web browser is trying to outsmart its competitor with its added armory of features. Our world is filled with people who are getting smarter by the day. Internet users are looking for ways and means to lessen their efforts towards information access. This is mainly why tips that simplify are an inherent part of any work you do. With Windows 8 becoming active, the much awaited and tested Internet Explorer 10 has found its way to the computers of Internet savvy users. The end user experiences and speeds have increased a multitude of times. You have worked on Explorer 10 and now want to get a few tricks into your bag, so that you can make IE 10, do what you want it to do.
Desktop view versus Metro View: What You Can Do in Internet Explorer 10
IE 10 displays to the user in two different views, the regular, but enhanced desktop view and the metro UI view. The Metro UI view has a display of only the required elements and is optimized for quicker page downloads and faster navigation. The Desktop view is accessed from the task bar and the Metro version is accessed from the Start screen. There are some functions that work differently in the two different views.
#1 : All of us "favorite" the websites we like and use often. Previous versions of IE offered a bookmark option for the function, but in IE 10, just a click on the left of the link is enough to Pin it as your favorite. From the options that scroll down you can select 'Pin to Start' or 'Add to favorites'.
#2 : When you want to invoke the favorites in the Metro view, just type 'Ctrl+D' alternatively, click the star icon on the top right corner if you are in the desktop view.
#3 : Browser history that helps us working on websites that were recently in use cannot be accessed via the Metro mode. However, it is made possible by using the 'Browser History' tab in the desktop mode.
#4 : Users of IE 10 can work with plug-ins only in the desktop mode and to maintain an increased speed level, the metro view does not have the advantage of plug-ins. You can manage your plug-ins or add-ons with the 'Manage Add-ons' menu.
For a Better Browsing Experience
For safe and secure navigation and a good user experience, Internet Explorer 10 offers the following functionality.
#5 : Many websites target their visitors based on locations. This helps them provide tailor-made content based on the geography. You can opt out of this commercial shadowing by switching off the Locations tab from the Options menu.
#6 : Get the search engine with which you want to start your search for the day, as your default page. You can select Bing, Google, or any other and make it your home page. There are separate options for the two different views. You can have the same search engine on either views or a different one for each.
#7 : Turn on the privacy tool "Do Not Track" to stop people from tracking your activity.
If you are tired of browser upgrades and want something new to satisfy your surfing needs. Internet Explorer 10 complements Windows 8 well, for a better all around experience and is definitely a notch higher than its previous version.
Author Bio: Carlene Masker is a technology enthusiast who is fond of writing helpful tips and fresh tidbits of information about the different fields in technology and innovation. She is currently working with Telco Services where you can find the latest information on Verizon FiOS deals.