There are lot of buzz going out on the Internet and Social Communities about Google+. I guess most of you have already signed up with Google+ account. However, we find some newbies always get in to trouble when it comes to registering on Social Sites. I will show you Step by Step Explanation on How to Set Up Your Google Plus Account.
About Google+: Google+ is a social networking Sites introduced by Google with an intention to simplify social experience. Google+ is all about circles, Circles is an innovative feature in Google+ where you can group your contact into different circles, and these circles are only visible to you. No one except you will be able to see names and visibility of circles. Initially, when Google+ rolled out, it was named as Facebook Killer, a big rival of Facebook. However, the battle is still ON between Both the Sites.
How to Set Up Your Google Plus Account
Step 1: Go to Google +, Sign-in with the existing Google Account if not, then create one with Google. After signing into Google, Enter your First name, Last name, Select your Gender and Add your Profile Photo and click on Upgrade.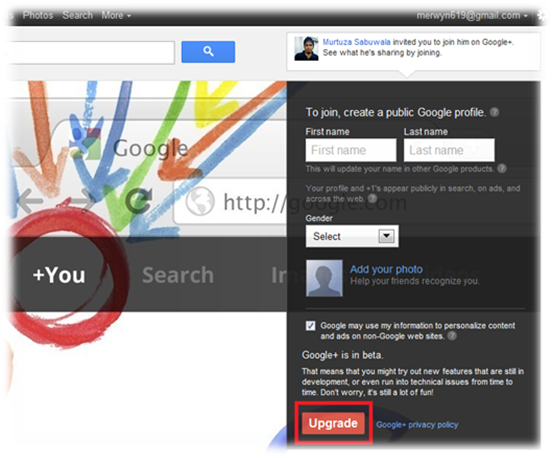 Step 2: After Clicking on Upgrade, You will be directed to this page. On this page, you can add the people as per your choice to circles. Once you are done, you need to Click on Continue.
Step 3: Now click on the top right corner button and Go to Google+ settings as in the below page.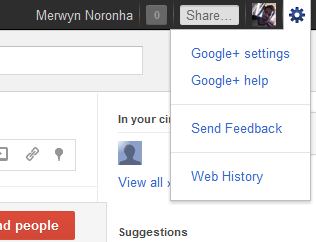 Step 4: Once you click on Google+ settings, you will see the below page. Here, you can configure settings related to Privacy and Sharing, select the settings according to your preferences. When you make any changes, it will be Autosave and show Saving Settings.. Preferences Updated.
Step 5: To create Circles, click on the Circles button on your profile page as shown below:
Step 6: On the Circles page, you will be able to find people by their email addresses or by searching them on email services like Yahoo or Hotmail.
Step 7: As you can see in the below screenshot, I have 4 Friends in my Friends Circle. In this way, you can create circles like Friends, Family, Acquaintances, Celebrities, Following, Cyber Buddies, College, Classes, etc. You can also add the same person to multiple circles.
Step 8: Click on share on your Google Plus homepage and you can share anything. You can add videos or photos or even links and location in your Posts. Accordingly you can also select the circles you would like to share this post with. If you leave it blank, this post can be viewed by everyone.
Congratulation, You just Created your Google+ Account, Keep Checking for More articles on Google+.