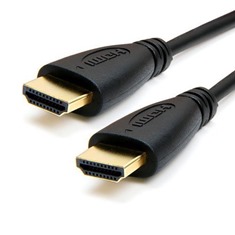 HDMI has now been upgraded to version 2.0, the company has officially announced HDMI 2.0 by HDMI Licensing. The new version arrives with support for higher resolution, higher frame and greater speed. With new era of Ultra HD TV, HDMI 2.0 is ready to fulfill the prerequisite for an HD TV. According to its specification by the company, the new version will support bandwidth of up to 18GBPS, a significant increase in bandwidth compared to its previous HDMI version. The increase in bandwidth will be able to support a greater video resolution of 3,840 x 2160 at 60fps, which is 4 times the clarity of 1080p.
One of the last and major releases of HDMI was four years ago where it released HDMI 1.4 version, which did support same resolution but provided only 30 FPS. The new version will also support for 32 audio channels; as well as dynamic auto lip-sync and extensions to CEC. The new spec is all set for all the modern TV industry by providing support for 4K resolution. However, it would not be able to handle 8k resolution at 60 FPS.
Below are some key features specification of new HDMI 2.0:
Resolutions up to 4K@50/60 (2160p), which is 4 times the clarity of 1080p/60 video resolution, for the ultimate video experience
Up to 32 audio channels for a multi-dimensional immersive audio experience
Up to 1536kHz audio sample frequency for the highest audio fidelity
Simultaneous delivery of dual video streams to multiple users on the same screen
Simultaneous delivery of multi-stream audio to multiple users (Up to 4)
Support for the wide angle theatrical 21:9 video aspect ratio
Dynamic synchronization of video and audio streams
CEC extensions provide more expanded command and control of consumer electronics devices through a single control point
The best part of HDMI 2.0 is its backward compatibility. There has been no change done to the physical design of the port or hardware, which means they will be backward compatible with all previous versions of HDMI.
Source: hdmi.org