Many people believe the pencil edit button provided by Nokia in s60, and other Symbian phones are not important or worthless. Most people don't know how and when it can be used.
The pencil edit key works just like a Shift key on the computer. The Pencil key is convenient and helpful in many situations. There is no magic stuff using this key, but it makes things easy while using this key. It works like magic for me on Nokia phones.
Finally, we tried to figure out all the uses of the Pencil edit button and listed them below.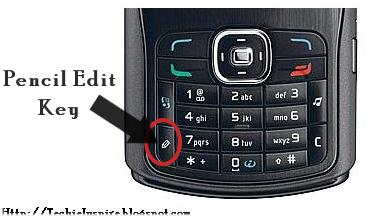 Multiple Select using Pencil Edit Key.
We use hotkeys such as the "shift key" to select multiple files or folders on the computer. Similarly, we have such a hotkey in Nokia, i.e., pencil edit button.
Here is how it works. If you want to delete multiple SMS simultaneously, simply hold the edit button (pencil key), scroll down, and press C to delete all the marked SMS.
Copy and Paste using Pencil Edit Key
We also have a function to copy and paste in the text editor for SMS.
Hold down the pencil key and move the cursor using the joystick (i.e., left, right) to select text. Now, press the pencil key, and you will get options to cut and copy the selection. Then go to the destination where you want to paste the text, press the pencil key, and select paste.
The above trick helped me in messaging and text editing on Nokia.
Safe Mode using Pencil Edit Key
As we have the safe mode option in our computer system, similarly, all Nokia smartphones have a safe mode option to boot. It can be very useful and handy when you are unable to start your
phone due to low memory or some other reason.
When you turn ON your phone, press the Pencil Edit key, and hold it until it asks to enter your PIN Code. The Default code is 0000. Now, you have successfully logged into the Safe Mode.
Rename using Pencil Edit Key
This edit button plays a significant role in other applications also. For selecting songs and renaming, the Edit key comes in very handy.
Edit key can be used to rename, for example, Go to Contact –> now press the pencil edit button on any contact name, and you will get an option to rename.
If you have any new tricks for the pencil edit key button, which we missed, please let us know in the comment section below.