Apple launched the first release of macOS Ventura to Mac users on October 24th, 2022. Apple usually publishes a major version around once a year. macOS Ventura is a significant upgrade that provides a new multitasking experience with many new features added and new capabilities across the platform.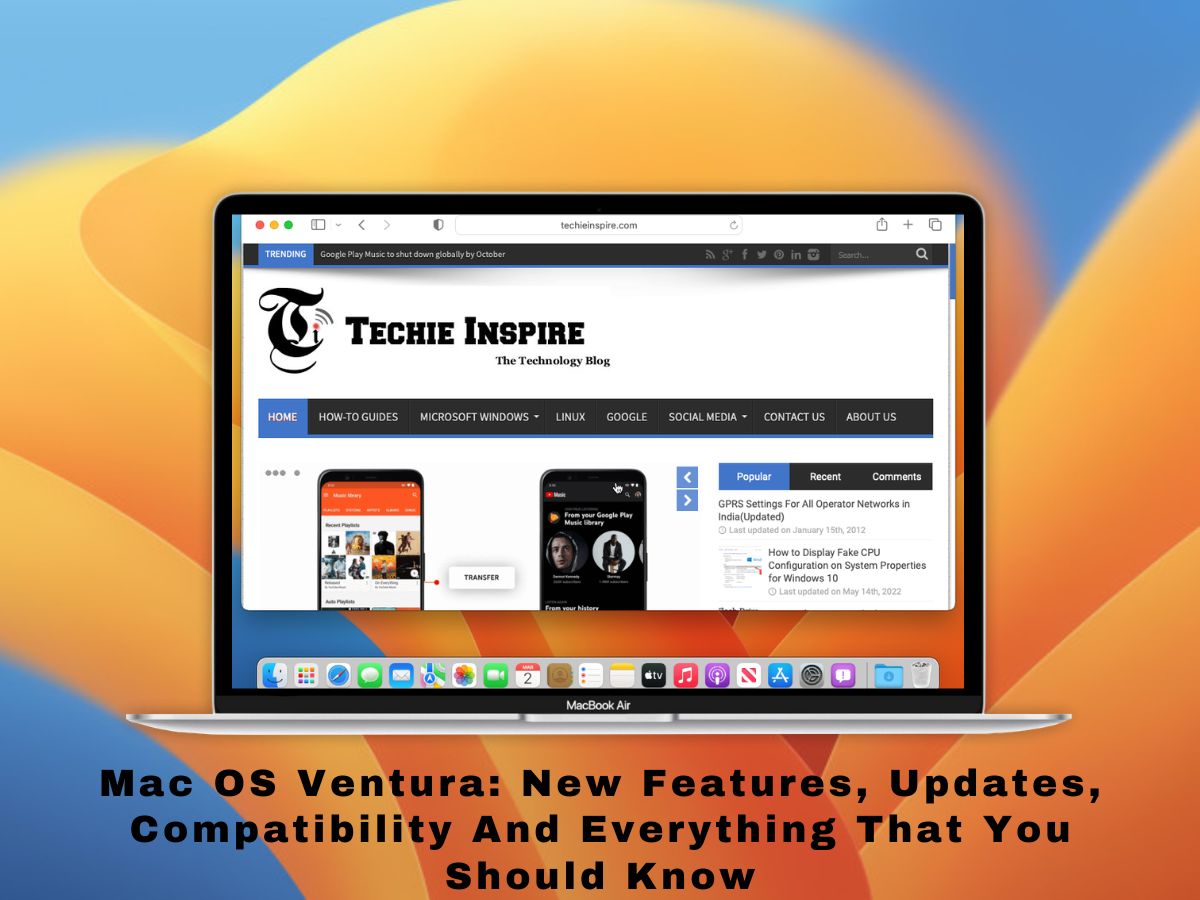 The Ventura name comes from a place in California that continues Apple's tradition of giving each version named after the city. Mac version initially used to name after big cats, but all changed after the release of macOS 10.9, which it named after a city called Mavericks. Since 2013, the tradition has continued giving names after places for all macOS updates. 
What is the macOS's current version?
The current version is macOS 13.2.1, which was released on February 13th. The latest version update includes critical security fixes.
macOS Ventura supported devices / Compatibility.
Every Mac device can not be updated to macOS Ventura. The devices which are compatible with macOS Ventura are:
MacBook models from 2017 or later
MacBook Pro from 2017 or later
iMac Pro (all models)
Mac mini models from 2018 or later
iMac models 2017 or later
MacBook Air models from 2018 or later
Mac Studio (all models)
Mac Pro models from 2019 or later
How to download macOS Ventura?
First, make sure your device support macOS Ventura. If you need more clarification, check out the list below, as we have mentioned the compatible devices.
The macOS Ventura installer is accessible for download from the App Store.
However, once go through the below points before installing this version
Examine the list of available compatible devices and ensure the existing system is compatible with the OS.
Look over and ensure that your required apps are compatible with Ventura. Or else there may be issues while working. 
To download, install and run Ventura smoothly. Ensure your device has 20-25 GB of space on your Mac. 
One can also use Time Machine Backup to back up valuable data before one opts for upgradation.
As a backstop, while updating, keep the charger plugged in.
The issues caused mid-way can discontinue the update or cause trouble within the new OS. So, make sure the network connection is stable and reliable.
Below are the steps to follow:
Step 1: Go to your App Store and type in macOS Ventura. You may get the old version in the App Store, too.
Step 2: Tap on the "Get" button.
Step 3: Now click "Download" to confirm, and the download will begin. 
Step 4: When the download process is done, the installation will start automatically. Don't close the Mac device and wait for the software to complete the work.
How to Upgrade to macOS Ventura/
Before you go for the upgrade, ensure your system is compatible.
Follow the steps below to upgrade to macOS 13 Ventura and ensure your Mac is connected to the internet.
Step 1: From the Apple menu, go to System Preferences, as shown in the below snapshot. 
Step 2: Then click on "Software Update."
Step 3: The available macOS version will be displayed, and wait until macOS Ventura appears.
Step 4: Now click on "Upgrade Now" to start upgrading.
What is new in macOS Ventura – MacOS 13 New Features?
Stage Manager:
Stage Manager is a multitasking feature that helps to organize your desktop app better. Stage Manager will show the app in the front that you are currently working on, and all others apps will be shown on the left side of the screen rather than the top. The idea behind the stage manager is that you can continue working on the app and easily switch between different apps while multitasking. Stage Manager can be toggled On or OFF from the control center.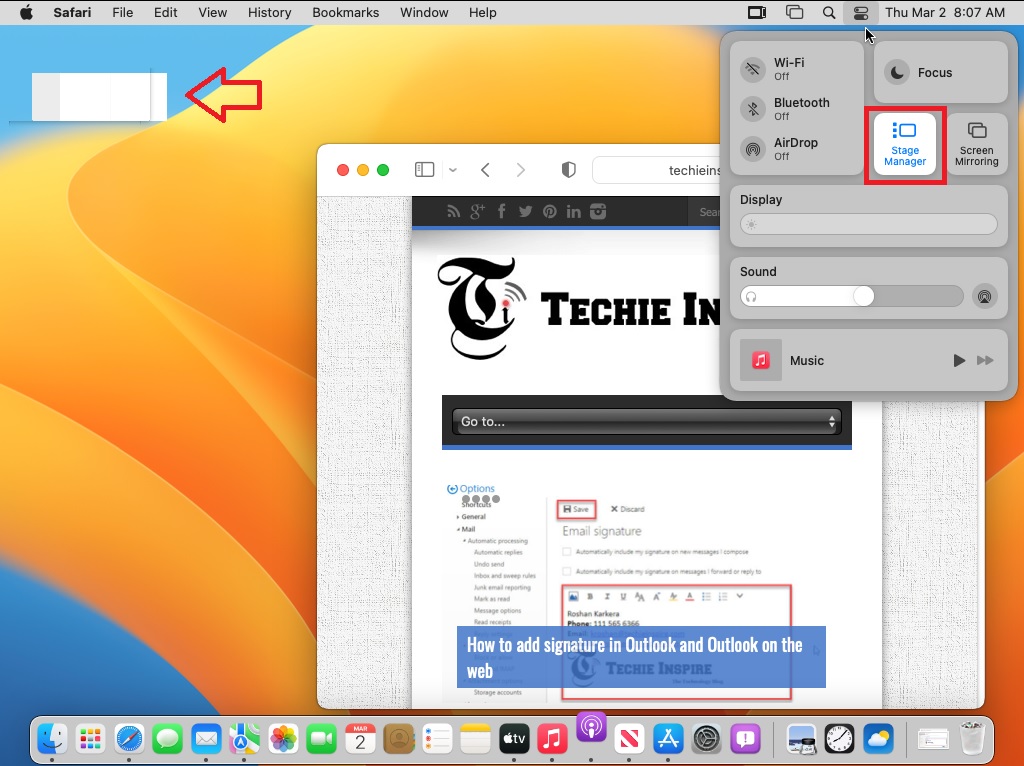 New system preferences menu:
The new system preference is the other redesigned and noticeable change in macOS Ventura.
Yes, it is now redesigned as system settings. Visually it looks like an app on ios, just like your iPhone and iPad.
Continuity Camera
Apple has introduced a feature where one can use iPhone as a webcam.
Since we all fall back on video calls more, it is one of the best features in apple macOS Ventura.
The iPhone can be connected to Mac wirelessly, or it can be connected using a cable. iPhone's camera automatically gets effective when iPhone is brought close to the Mac.
All you need is an accessory to bear your iPhone on top of your MacBook display, like a camera mount or any similar accessory.
This will save you from buying a new webcam as well as conveyance of handoff face time to your Mac from your iPhone or iPad.
Now let us check how to Use Your iPhone's camera as a Webcam for Your Mac.
Portrait Mode – This mode helps blur the background behind you.
Center Stage – As the name suggests, it keeps you centered if you move around while on a call. It uses the Ultra Wide camera on the iPhone to adjust the framing. On top of that, it is helpful if many people are on the call as it holds onto everyone in the frame.
Studio Light – This will dim the background and brighten the face. 
Desk View This also uses the Ultra Wide camera on the iPhone. This will display what's on your desk during a video call. One can share their desk as well as their face at the same time.
Message :
Even though there are no significant design changes in the messages app, there is an update that has been eagerly waiting for years.
Yes, iMessage can unsend any message within 15 minutes once it is sent. There is also an edit option that can be used within 15 minutes.
This feature works only with "blue bubble" iMessages. Does not work with regular SMS.
Now there is a choice for Ventura users to recover recently deleted messages. One can recover within 30 days after deleting. All the deleted texts are available in a filtered section of the Messages app.
You can mark the message as unread if you want to avoid dealing with it right away so that you can remember and check it later.
Above all, SharePlay came together with Messages or FaceTime. So, one can unite with family and friends to chat with Messages or a video chat.
Safari passkeys:
We all know passkeys are generated for security purposes. One should remember the passwords while logging in to the website accounts.
Apple mac OS Ventura has included a feature that you can sign in to your accounts like eBay, kayak GoDaddy, and PayPal without entering passwords.
All you can use is touch id on your Mac. One can log in using a touch id.
Apple also claims that "passkeys are unique digital keys that stay on the device and are never stored on a web server," hence they are much more secure and need not worry about using it.
New powerful spotlight search
MacOS Ventura spotlight search has gained a major upgrade.
One can search the keywords like artists, tv shows, sports, movies, books, etc., to obtain detailed results like videos, images, news, articles, and more in the spotlight search window itself.
The two new features of spotlight search are quick look and quick actions.
Let us watch out how quick look works: to open spotlight search, press command + spacebar.
Next, type the terms to search. Now, select a search result in the spotlight and press the spacebar.
That's it; a new window will appear on the spotlight search screen itself.
In quick action, the terms we enter will not match the keywords in the spotlight search; instead, the websites will appear.
For instance, if you enter 'start a 5-minute timer' in the spotlight search, the websites of the clock app that can start the timer will be displayed.
Mail:
Like messages, even Mail, there are few changes in macOS Ventura. You can unsend the Mail within 10 seconds if you make an error.
There are also options to plan email messages to be sent in the future.
Photo:
It is a waste of memory if we have similar photos in Photo Library, macOS Ventura can identify them, and it will merge the duplicate images into one image.
It can also sort people's albums alphabetically. In this update, the Hidden and Recently Deleted albums are locked.
Those photos are retrieved through Touch ID or Mac's login password.
Clock:
The clock app, available on the iPad and iPhone, is now available on the Mac.
This also supports Siri integration for checking the time in another city and setting timers and alarms.
One can see the local time around the world in different time zones.
Weather:
Like the clock app, Apple has brought all of the features of the iOS app to Mac OS, such as air quality monitoring, forecasts, severe weather notifications, animated weather backgrounds that switch based on the weather at your location, and also provide a larger display.
Reminders app:
There are many new features in the Reminders app, like Notifications in shared lists, for a better division of the day. The Scheduled list contains new month and week groups. One can pin the Favorite lists and Notifications in shared lists for quicker access. One can insert underlined, strike-through text, bold, and bullets.
Other minor upgradation features in the new Mac OS 13 include Apple Pay, Reference Mode, iCloud+, News, Game Center, Dictation, Translate, Music, Stocks, Siri, TV, Security Updates, etc.
MacOS Ventura vs. Monterey
Is it worth upgrading to macOS Ventura?
Well, let us discuss this more.
macOS Ventura is the latest version for Macs. Ventura comes after the Monterey version.
As discussed above, outstanding enhancements have been made to existing features, such as Spotlight and Safari, and a few new features have been put on, such as Freeform and Stage Manager.
Some apps have been improvised, like Passkeys, Continuity Camera, etc.
One of the best reasons for upgrading is security. As the company keeps on working to put an end to vulnerabilities. Hence latest mac versions are always better than old mac versions.
There are also a few users who don't opt for upgradation. The main reason is the new version may contain flaws and bugs. The Apple company requires some time to get the user's feedback and eliminate bugs and errors in the latest released version. The other reason is that a few devices are incompatible with the latest Ventura.
So, is it worth upgrading to Ventura? Yes, it is definitely worth upgrading to Ventura, considering that the above features are helpful to you.