While it's still true that search engines are heavily responsible for the greatest share of internet traffic, social media services are going to be your second largest source, particularly Facebook, Google+ and Twitter .
While there will always be ways of sharing great content, you must consider the fact that the way in which you integrate social media into your site will have a huge impact on how much social media traffic you attract.
When it comes to marketing your content, particularly for WordPress admins, there are many ways in which you can utilize social media to help spread the word about your blog posts.
While it may be possible for social media "sun-setting" to occur with certain platforms, where their usage and popularity may diminish over time (take MySpace, for example), most of the popular social media giants of our day have a promising outlook. In particular, Pinterest and Google+ are what many would consider to have fairly high stock at this point.
So, it still makes a lot of sense to have the world's most robust content creation platform linked up with the most popular ways of sharing that content.
How Far We've Come
Within the past five years or so, social media has become one of the best ways for businesses and individuals to market themselves online.
While MySpace and Facebook started out primarily as tools for social interaction (and were almost exclusively for personal use), we've gotten to the point where businesses can use social media for their marketing purposes, making it one of the most popular methods of online traffic generation.
In fact, any business, regardless of whether they have a website or not, is missing out on traffic if they aren't engaged through social media.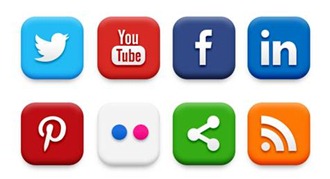 Although it's true that social media is still dominated by personal use, that's precisely what makes it so attractive to businesses and website owners– it's how people keep up with the things they're interested in. Therefore, having a lot of people keeping personal pages is beneficial for businesses looking to increase their online visibility.
To put it simply, it's the best place to get a lot of eyes on your content.
Content Creation and Sharing
Since blogging has been around much longer than social media, content sharing websites, like Pinterest and Google+, have been able to jump right in and function as a tool in the hand of bloggers.
That means a happy marriage between social media sites and blogging platforms, such as WordPress, which has inevitably given rise to a wide-array of social media sharing tools and plugins that are specifically designed to work with WordPress-driven websites.
These plugins are intended to make it easier for those viewing the content to share it via their social media accounts with the simple click of a button, as opposed to copying and pasting a URL (which still works all the same).
Those who use social media sharing plugins tend to have a higher rate of sharing than sites that don't, and while it certainly depends on the quality of your content, making it easier for those who appreciate your content to get it in front of others who might feel the same is a no-brainer.
Since there are so many social media plugins available, you'll save yourself some trouble by targeting the more reliable and popular plugins for your own site.
When it comes to getting your content shared with the maximum number of people, these are some of the best plugins available:
1. Sociable
Sociable is a free plugin that adds social media sharing buttons to every post, page and RSS feed of your WordPress site.
There's a wide variety of customization options, including what kind of icons you use (and the size), social media buttons and an optional counter that shows how many times each one has been shared.
Sociable can either be automatically inserted into every page or it can be set to allow you to choose when and where it appears.
Depending on your preference, you can also set links to either be opened in new tabs or entirely new windows.
2. Sharebar
You've probably noticed Sharebar on a variety of WordPress sites already. It's the little vertical bar with sharing buttons that sits right alongside every post, and scrolls along with the page so that it never disappears.
As with Sociable, just about everything is customizable, right down to the size of the buttons and the menu itself. With some simple PHP code, you can even set the menu to be located at places other than right next to the blog post.
Some people find this plugin a bit intrusive because it scrolls with your page and doesn't disappear; however, it is one of the more popular and effective sharing tools among WordPress plugins.
3. Sharethis
Now on millions of websites with support for a staggering 99 social media services, Sharethis is one of the most popular and comprehensive when it comes to social media sharing.
The plugin itself supports seven different kinds of displays, including large and small icons, as well as a variety of vertical and horizontal options, all with or without counts.
It also supports a multi-post option, which allows users to share content without having to leave your site.
4. Shareaholic
This plugin allows you to select from 86 different social media services. It even gives you the option to customize the aesthetics of the sharing bar by allowing you to pick from a variety of background text images or by uploading your own.

The buttons themselves are only partly exposed until you hover over them, at which point they'll pop up to reveal the full button service icon.
This is a great plugin that will automatically and randomly post past content from your WordPress page to your Twitter account. When used at the right time, tweeting old posts can be an effective way to rejuvenate old content that doesn't get traffic aside from what search engines might turn up.
You can even add hashtags and leading text if you so choose, otherwise, the plugin pretty much takes care of business.
This is an automated plugin that will post whatever content you publish on WordPress to all of your social media accounts.
However, with automatic publishing, you've got to be extremely wary, as you run the risk of losing a personal connection with your social media following. Many sites will use JetPack Publicize to automatically post and then follow-up with more personal content throughout the week.
If you struggle to find the time to post your content, this could be a workable solution for you, at least in part.
The Benefit of Plugins
Some people might wonder, "Why not just go with buttons and let people post your URL?"
The truth is, these plugins help you share content by simply streamlining that process, making it easier for both you and others to send content into social media accounts. It's not really reinventing the wheel; it's just making it more obvious and accessible to people who might otherwise not be willing to take the time to copy and paste a link.
If you can set things up so that all your readers will have to do is click a button, then you'll likely be successful in getting more shares.
Remember: "Content is King"
Keep in mind that social plugins, though a useful tool, can never replace valuable and "share-worthy" content. You can have all the social sharing plugins in the world, but if you're producing poor content, then your chances of actually getting people to share it are slim-to-none.
Publish great content with WordPress and use the plugins to get that content in front of the right people– it's today's recipe for online success.
Author Bio: Camille McClane is a freelance writer and motivated online entrepreneur in Southern California. As an avid WordPress user as well as a writer for the blog of BlogWranglers.com, she understands the importance of integrating social media in order to increase online visibility, and highly encourages both businesses and individuals to take advantage.