Linux previous release was a disaster since most of the Ubuntu fans switched to different Linux distro. The main reason behind was due to dropping of Gnome shell in favors of unity. However, in this release, Ubuntu is still settled on with unity but some features in this release are really noteworthy updates in Ubuntu.
On 26th April 2012, Ubuntu announced Ubuntu 12.04 LTS (Long-Term Support) for Desktop, Server, Cloud, and Core products.
Most people have often kept asking about LTS "What is LTS mean." LTS simply stands for Long Term Support, it says that this version will be supported for five years from Ubuntu. Most newbie often thinks Ubuntu LTA is a paid version of Linux. Ubuntu was never meant to be a paid OS like Windows. Ubuntu is Linux Operating System, which is distributed for free. Ubuntu is free and will be Free forever. Ubuntu is supported by canonical, which is a non-profit organisation and believes in Free software distribution as software for charity or non profit oriented software.
What's New
The HUD
Ubuntu 12.04 comes with a new feature called HUD (Heads-Up Display), probably the most interesting and innovative feature in this release. Suppose you are using a program, and you want to search some specific menu or something which you are not sure about its path, with the help of HUD it solves that problem. Just hit ALT button, a search bar will pop up in the top left corner of the screen. Type what you are searching and enter, you might get surprised by the result using HUD. This feature comes very handy and can help you in real-time.
Video Lens
In this Release, a new lens is added for searching video. Select the video icon at the bottom of dash screen and you can search video. You can search video locally as well as online locations such as YouTube, Vimeo, and TED Talks.
Privacy
Earlier in Ubuntu since 11.04, Ubuntu by default used to create activity logs, which was saved or stored locally. This logs include all activity performed by you such as most visited sites from your computer, files or application you use most and other things you do on your computer. This logs are used by other applications, which can use this log and customize itself according to your experience. However, this resulted some privacy concern among many users. Anyhow, in this release, Ubuntu has included a Privacy Panel for managing this behaviour. You will find this under Ubuntu's System Settings window.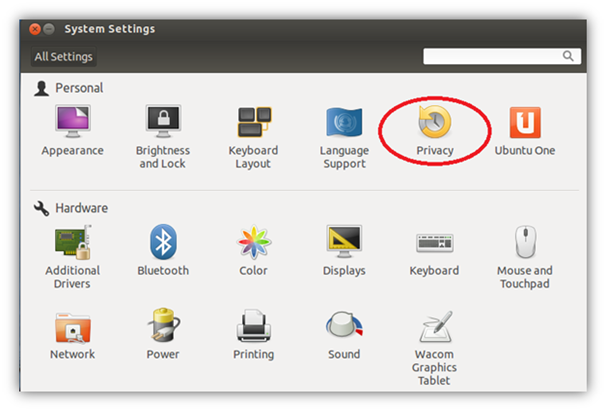 You can either completely turn off log creation, or you can specify it for specific files or applications.
Quicklists
Same like Windows 7, an easy way to navigate. Many applications now support "Quicklist" feature. Right-click on the application icon on utility launcher and you'll find shortcuts to frequently accessed options.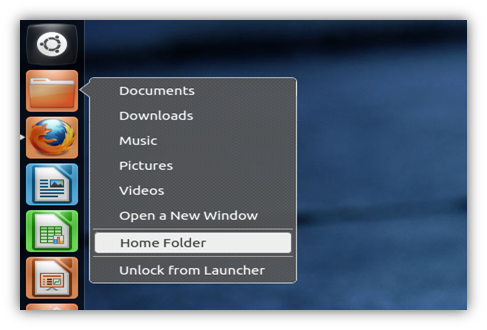 Theme Color
Again, a feature similar to Windows 7, Ubuntu matches theme color depending on your desktop wallpaper. When you set desktop with some background, Ubuntu detects desktop wallpaper theme or color and accordingly Ubuntu change's theme color automatically, just like a chameleon!
Shortcut Overlays
In case, you're looking forward to learn some handy keyboard shortcuts, Ubuntu has added a shortcut which would popup a window showing all Ubuntu shortcuts. Simply hit and hold Super key (i.e. windows logo key) key and window will popup with all Ubuntu shortcuts. That is something great for newbies as well as for pro users.
Supports Touchpads
Since long time, user had trouble using Ubuntu on laptop having ClickPad devices, where in the touchpad is itself is the mouse button. In Ubuntu 12.04, an enhanced support is available for such devices. Now you can click or press on the ClickPad, and at the same time you can drag using other fingers.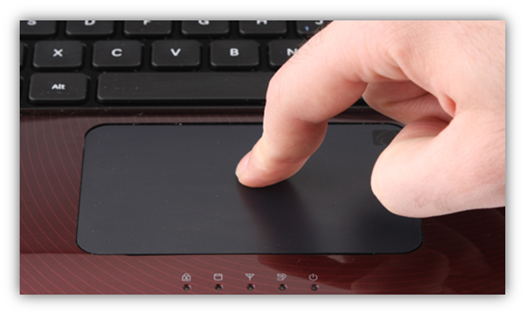 However, we have observed some lag during operation like dragging or using two fingers at the same time. It also supports Apple MacBook trackpads. However, Support for Apple Magic Trackpads and more Synaptics brands ClickPads will follow in the next release.
Multi-Monitor Support
For people those who use multi monitor on their system, Ubuntu has added some new options for multi-monitor system. You can easily configure your multi monitor on your system using Ubuntu. We find it quite user friendly to configure.
Rhythmbox is back
Ubuntu has dropped Banshee as default music player and switched back to Rhythmbox. Ubuntu one music store is once again available in Rhythmbox.
Conclusion: After testing this at our end, we find this version is a more stable and more reliable version compared to its earlier version. There are also a lot of improvements seen in its performance, including unity performance improvement.
Discover the new Ubuntu 12.04 LTS and let us know if you find something interesting, share it on the below comment section.