Usually, all Nokia phones have the option to transfer the incoming message from phone memory to the memory card. But most models don't have such an option, such as Nokia Model No 3230, Ngage, and some other models.
Note: This Guide is for Nokia S60V2.
Why Enable the Memory Card option for Message Storage?
Suppose you receive any file more than 5 MB using Bluetooth. When this file is saved in the phone memory, you will get an error saying memory is full due to low memory in the phone.
Because Phone memory usually has 7-9 MB. You might not be able to save the file. Though you have somehow saved the file on the phone, you might experience some severe memory problems.
Your phone will start experiencing problems like repeatedly restarting, Slow Performance, Hanging Issues, and some other issues due to low memory.
Hence, if you don't have an option to save in a memory card, then follow the below steps to enable the Memory card option.
Step 1: Install MsvDriveE, which will send all incoming messages to the memory card. Download MsvDriveE.
Step 2: Now, run the MsvDriveE application; you will see the blank screen; wait until the blank screen disappears. Now go to messages; you will see the icon changed from Default message icon to MMC Icon On Top.
If you see MMC Icon, then it means that all incoming messages will be stored on Memory Card. You can always identify the memory in use by checking the top icon.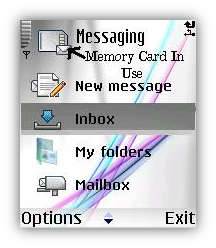 Note: You might have noticed that all your old messages are not there in the inbox. Don't Worry, as your messages are present in your phone memory.
To get Old Messages back, Turn your phone off, remove the Memory Card, and start your phone. You will get Your Messages Back.