Have you ever seen web page glitter? With the help of the below code, you can make any web page glitter like stars.
The below code is JavaScript code, which does the work. You can use it to have some fun with your friends or family.
This trick simply changes the text color of any link, i.e., Hyperlink. So, if you have any hyperlinks, all links will start glitter on any particular page. This code is safe to use and will not harm in anyways.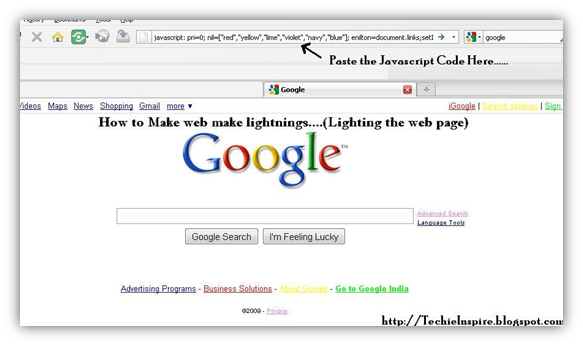 Steps to Glitter web page on Web Browser using below Javascript trick
1. Open any Web site or page in your Web browser.
2. Copy the below code and paste it in the address bar of the browser and press Enter.
javascript: pri=0; nil=["red","yellow","lime","violet","navy","blue"]; enilton=document.links;setInterval("pri++;enilton[pri % document.links.length].style.color=nil[pri % nil.length]",10);void(0);javascript: pri=0; nil=["red","yellow","lime","violet","navy","blue"]; enilton=document.links;setInterval("pri++;enilton[pri % document.links.length].style.color=nil[pri % nil.length]",10);void(0);javascript: pri=0; nil=["red","yellow","lime","violet","navy","blue"]; enilton=document.links;setInterval("pri++;enilton[pri % document.links.length].style.color=nil[pri % nil.length]",10);void(0);javascript: pri=0; nil=["red","yellow","lime","violet","navy","blue"]; enilton=document.links;setInterval("pri++;enilton[pri % document.links.length].style.color=nil[pri % nil.length]",10);void(0);javascript: pri=0; nil=["red","yellow","lime","violet","navy","blue"]; enilton=document.links;setInterval("pri++;enilton[pri % document.links.length].style.color=nil[pri % nil.length]",10);void(0);
Update:
Today, most web browsers will not run the JavaScript directly from the address bar. Follow the below step to run this code on the address bar for different web browsers.
For Chrome & IE
When you copy and paste on Chrome & IE address bar, it will automatically remove the JavaScript name. So simply add the JavaScript name with a colon at the start.
Copy and Paste the JavaScript code into the address bar
Now press the Home key, this will take you to the starting point of that code in the address bar.
Type javascript: (don't forget to add ":" colon right after "javascript" without any space), now just press Enter to execute.
For Firefox:
Post Firefox 6 updated; Firefox no longer supports running JavaScript on the address bar. The above step used in Chrome and IE browsers will not work either.
The only way you can run the JavaScript directly is using Bookmarklet. Bookmark is simpler and easy, just add the code in your bookmark and run the bookmark.
Right-click on the Firefox toolbar and choose New Bookmark. Add the above code manually in the location box of the bookmark and give any name for the bookmark as you wish.
or
Add Webpage Glitter – Drag this link to your bookmarks toolbar.
Once this is added to the bookmark toolbar, go to any web page and just click the Webpage Glitter bookmark on the toolbar and see the magic.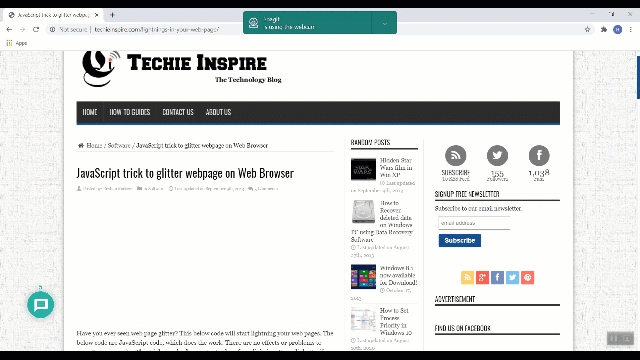 Source: Please note that this JavaScript code is not created by us and credit goes to the original creator.