Google announced on Monday its Gmail updates for feature phones, which support a brand-new look which is relatively faster and easier to use. Today almost everyone uses feature phones or portable devices to access Gmail on the go and its very important to have quicker and easy access to your mail. Considering the fact, Google has been working on its new look, and eventually roll out its new look, which is now simpler and faster to use.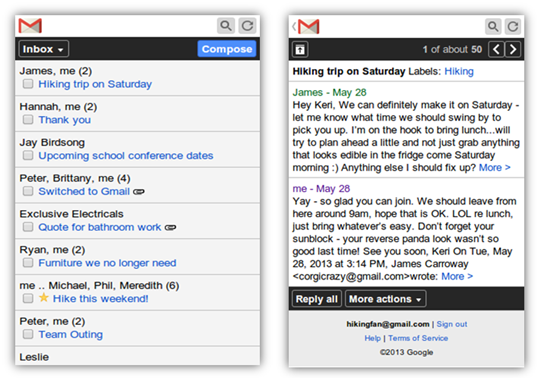 According to Gmail's post,
People use all sorts of devices to access Gmail: their web browser, smartphone, tablet and, in many parts of the world, their feature phone. For those of you who use a feature phone to access Gmail on the go, starting today you're getting a brand new look that's faster and easier to use.
The new user interface of Gmail adds a number of improvements that reduce the number of button presses required to read, reply and compose emails. You can now instantly reply to a message from the tread view directly and can choose to move to the previous or next conversation directly.
Google has lately been making a lot of changes in respect to Gmail looks and features. One of the last big changes went live was Gmail's New Inbox. However, Google does understand today's market need, since people are more likely using feature phones rather PC/Laptop to access mails on Gmail. Consequently, Google is focusing its attention more toward feature phones, and we may hear some new features soon from Google.