Facebook again went for an upgrade and these time people are really gone crazy and annoyed due to its new feature introduced in Facebook. Facebook has recently updated its old chat to new chat style, which is very cumbersome to chat with people. People are really not happy with Facebook new chat style and people have created a group in Facebook in oppose to new chat feature of Facebook. Facebook is really going from bad time as it is already been getting hit by its rival Google+ and on top of that Facebook, new feature which is making thing very difficult for a user. I personally did not like New Facebook chat style due to following reasons: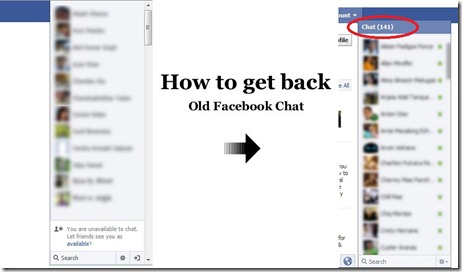 Offline people gets populate in the list.
It lists the most interacted people on top of the list which works complete opposite of that, instead it shows people you never had any interaction among them.
It shows both online and offline people in the list.
Never understand who came online and offline.
It looks ugly and takes much more space than earlier old chat style.
Facebook always been failed to understand what user wants. However, we do understand this problem for people out their who loved chatting on Facebook using that small old chat window. Ok, let get that old Facebook chat back. There are many Addons and tools, which are available on the internet, but I do not recommend this since untrusted Addons and script can have malware and unwanted code, which are potentially harmful to your system. I recommend to go for the below script to have Facebook chat.
Steps to be followed:
1.)  Open the below site,
http://userscripts.org/scripts/show/107159
2.) Install script from above site to Web browser.
Installing scripts in chrome is very easy (It has an inbuilt script installer)
=> In the Script page, Click on "Install" button

=> Now chrome popup "Confirm Installation" box, Click on Install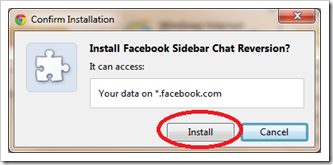 On complete installation of the script, Reopen Facebook and check Facebook again for old Facebook chat.
Firefox doesn't have an inbuilt script installer, and so we need the grease monkey add-on to install script in Firefox.
=> Install Greasemonkey Addons to Firefox
=> Once Greasemonkey installed in Firefox, restart the browser and open the Script page and Click on "Install" button.

=> Greasemonkey popup script installation panel, Click on Install to install the script
After installing the script, Check your Facebook to see the changes made to chat window.
As we needed Greasemonkey addon to install the script in Firefox, In the same way, we require an addon to install this script in Safari.
=> Download and Install GreaseKit Addon to Safari
=>Once Addon installed, Install the Script from the Script page.
The best tool to install Greasemonkey script is Trixie, If using IE7PRO then greasemonkey userscript functionality is already added but not implemented in other versions of IE.
=> Download & Install Trixie to IE browser
=> After Trixie is installed, Install the script to IE
Note: Not tested with Safari and IE but it will work.
Hopefully, Facebook soon reverts back its chat feature to Old one before its too late.
Did the above article on "How to get back old Facebook Chat" helped to switch to Old facebook chat, If you find it helpful then subscribe Techie Inspire