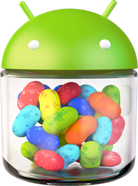 On June 27, 2012, Google announced Android 4.1 Jelly Bean at Google I/O Conference. Though it's a been few months since the release, people are still not aware about Android 4.1 Jelly Bean version from android. The reason might be just because many big players and carriers are not ready or might not be interested in delivering it. However, most acquainted users are just excited to get their hands on new android 4.1 Jelly Bean. So far, few players like Nexus and Samsung Galaxy, HTC, and still more are busy in rolling out with android 4.1.
People using nexus are already started receiving android 4.1 upgrade via OTA but only few devices could be seen with android 4.1, since most carrier phone manufacturers (phone purchased from carrier) are not ready with their built and will have to wait until their phone manufacture develops the build. For People who brought their device directly from Google such as Galaxy Nexus 7 are able to receive upgrades.
Android 4.1 Jelly Bean
According to Google, Android 4.1 Jelly Bean is said to be one of the fastest and smoothest versions of android yet. Android is acting wise by rolling out its android appropriately because instead of rolling out a new full version, i.e. from 4.0 to 5.0. Google decided to expand its exciting 4.0 ICS maintaining its beauty of Android 4.0 but with improvement on simplicity and performance.
Apart from performance improvement, android has also packed some exciting features that might entice you to go for Android 4.1 Jelly Bean.
1. Google Now
One of the new features you will see in android 4.1 is Google Now. Google Now is a new tool which helps you get the right information at the right time automatically. However, to enable this will require you to activate the feature. It automatically keeps updating you with all important events or information like your favorite sports, travel status, traffic updates, etc. For example, If you say "traffic", it will update you with traffic details and suggest alternative routes to work in case of heavy traffic. It keeps you updated with your flights details, suppose you want to be updated with all flights to usa or status of flights.
Google Now is basically a virtual assistant similar to Siri found in Apple's iPhone.
2. Voice Search
Voice search is now more powerful packed with new voice search features. Voice is much faster with a new UI. A new embedded speech recognizer lets you use Voice Typing even when you don't have an Internet connection. For many search queries performed through Voice Search, you can now hear a spoken answer for the same.
3. Offline voice typing
Previously, on Android, it supported voice dictation feature, but it required internet connection to work since it used to communicate with Google server to process voice into the voice recognition engine. However, in Android 4.1, Google have embedded speech recognizer into phone OS itself making it possible to recognize the voice without connecting to the internet. As of now, Offline voice typing is only available in English (US) but company planning to add more language soon.
4. Improved Notification
Notification is something, which has been very important and useful in android and its getting even better. Now you can take action directly from notification shade. Notification can now be more larger and more richer that can be expanded and collapsed with a pinch. With new notification, you can display full text of incoming message or view full photo when received MMS. Notification can now support new type of content, multiple actions, photos, etc. Notification support image preview and can view image preview when the screenshot is taken.
5. Improvements to Android Beam
Android Beam featured on Android 4.0 Ice Cream Sandwich, where in tapping two phones together allowed users to share photos using wireless technology called near-field communication. However, current version of android, i.e. Android 4.0 Ice Cream Sandwich had some limited feature to share photo using NFC. With improvement on Android beam in Android 4.1, you can now easily share your photos and videos by just tapping.
Despite many features introduced in Android 4.1, people are more excited by its performance boost. Overall, you may see a lot of improvements in speed, frame rate, touch input, smoother navigation and animations.