Do you use Google Calendar for your work? If yes, then Google has some good news for people using Google Calendar. After integrating its Google+ Hangout in Gmail, they have now integrated Hangout in Google Calendar. Post this enhancement in Google Calendar, you can now easily add Hangout to any event on your calendar and can access with just a single click.
From Google Blog:
Do you use Google Calendar to schedule catch ups with distant friends and family? Now, if you've upgraded to Google+, you can schedule a face-to-face video chat right from Google Calendar using Google+ Hangouts. It takes one click to add a hangout to an event and another click to join the hangout.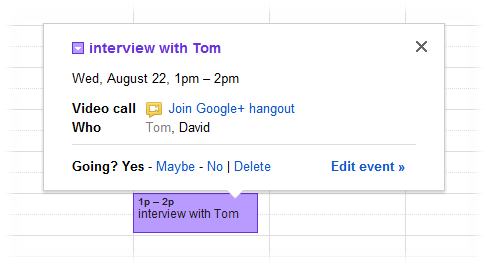 According to Google, integrating hangout would certainly help people to connect regardless of many products in Google. This would gradually increase reliability and video quality replacing old peer-to-peer technology.