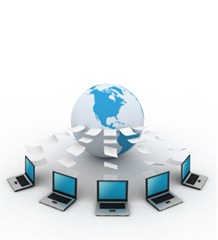 Jobs in the IT field are exciting, in-demand, and well-compensating. People who work in IT say they love their jobs because each day is different, and not often do you have to solve the same problem twice. IT jobs no longer are simply just setting up computers and phone systems; the job description has evolved into much more than that.
With new office technology and more and more things going on the cloud, the demand for IT professionals couldn't be higher. Even better, degrees and certificates in information technology are becoming more attainable through distance learning. If you're considering a career in information technology, check out these benefits that will help you solidify your desire for a career in the IT world.
Easily Attainable Degree
While maybe it's not write to call any degree "easily attainable", an IT degree definitely is much more convenient for earning. Lots of IT programs are available through distance learning, meaning you can earn your IT degree on your own time while in your own living room.
There are a few different degree routes you can take when it comes to learning IT, either a two-year degree or a four-year degree. In many cases, a two-year degree will be sufficient, because a lot of the learning that you'll do in your career choice will be on the job. It's even possible to teach yourself enough to land a job in IT, although it's definitely recommended that you earn a degree.
Job Demand
Jobs in information technology are some of the most in-demand jobs right now, meaning you'll be set for employment upon the completion of your degree. Why is this, you ask? Think about it; just about every entity has a need for IT. Whether it's the local shoe store setting up a wireless network, or a large government office like the Pentagon, IT is needed everywhere.
Once you have experience as a professional IT person, you can even consider working for yourself and doing consultation. You'll be able to set your own hours, choose your own jobs, and make a lot of money.
Never Stop Learning
A job in IT is not for everyone, because it requires you to never stop learning. As technology constantly evolves, so does the job description for information technology. While it may have been simple a few years ago, a job in IT requires critical thinking and a lot of effort in order to solve complex network problems.
Since the job description is ever evolving, it means you'll never stop learning as an IT professional. Whether that requires reading forums on websites or taking weekend refresher courses, IT requires a wealth of ever changing knowledge. For example, with cloud computing taking off the last few years, IT professionals have had to learn entirely new skills on how to set up networks in the cloud, while keeping them secure and always running. This aspect is what draws a lot of people to the IT field, because you'll always be learning.
Image credit: http://1.bp.blogspot.com/