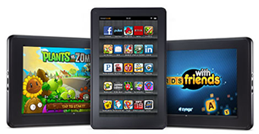 Are you an ardent gamer? Do you play to conquer untraveled worlds, to become a gun-trotting soldier fighting for a noble cause, or for the sheer pleasure of winning? No matter why we play, we do not seem to get enough of what fast paced action games have to offer. But gamers, you can count on the fact that there is a treat in store for you.
Have you been using your Kindle Fire tablet for surfing, listening to music or reading eBooks on travel? Don't you think it is high time you fired up your Kindle Fire? Well, what are you waiting for? With the announcement of GameCircle for the Kindle Fire tablet, Amazon has taken a huge step forward in the direction of social gaming. With GameCircle, Amazon is sitting pretty against Apple's Game Center.
Let us unravel the mystery of Kindle Fire's GameCircle. GameCircle is a bunch of services that have been designed to better engage the gamer giving him a seamless gaming experience. GameCircle has a set of APIs (application programming interface) that help developers create more interactive games for users. It has got all the basics right: global leaderboard, achievements and sync functionality.
Leaderboards give you a sneak peek into the rankings of top players. You get to compare percentile rankings of other players without leaving your game. Achievement allows you to track your awards, trophies, badges and all your victories. Check the collections you have earned and determine what other badges you want to collect before continuing the game. Needless to say, you need not stop your game.
What's more? What GameCircle has that Game Center lacks is the cloud syncing feature that allows users to pause their game and resume it on any device with internet connectivity. This could well be the centerpiece that steals the thunder off Game Center. One main irritation-inducing aspect of gaming is being unable to start from where you left. With scores, progress, and achievements securely stored in the cloud, gamers need not worry about losing their hard earned trophies and treasures. With GameCircle's cloud syncing feature, gamers will not lose even one excitement laced moment.
Is GameCircle an answer to Apple's Game Center? Maybe. With two giants like Amazon and Apple, battling it out to give the best gaming experience, life would become the most exciting game for gamers. Wait, who said three is a crowd? With Kindle Fire's GameCircle you could invite the world to share a game with you.
Author Bio: This is a guest post by Jena Branch of Buycox.com, a site that offers savings and current information on cox communications.