Having a device like the iPad is truly a thing of joy, but if you want to experience it fully you just have to hook it up to your HDTV, and one way you can do this is by mirroring your iPad with your HDTV. As the name suggests, what display mirroring does is allow you to duplicate the screen of your iPad's display onto your computer screen or a TV.
You can do most everything you want – and on the big screen, and this includes playing games, surfing the internet, working on social-networking sites, watching movies – which will, take our word for it – make it a wholly different experience, because while the pad is great to watch movies on when you are alone, when you are watching with friends you would wish that you had a bigger screen. However, this feature is available only on the iPad 2, and because the screen ratios are different between an iPad and an HDTV, the iPad displays will show as centered and will essentially not use the entire screen.
Mirroring your iPad to your HDTV
1. Connect to HDTV using HDMI: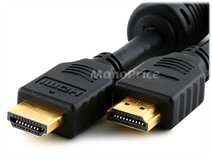 Your Digital AV Adapter which comes via Apple will let you transfer both audio and video even that of HD quality, and all you need to do is connect the cable from your iPad to your HDTV. The advantage is that even if any particular app on the iPad does not support video output, you can still see it over the TV, and of course you have the capacity to watch anything from the computer to the screen. This particular cable is most useful as it can be used across devices like the iPhone4 etc, as well as DVDs.
2. Use Airplay:
Apple TV is probably the next best way when it comes to connecting to HDTV with your apple device, especially using mirroring and this is most effective using a wireless. All you need to do is connect your Apple TV and the iPad to the same Wi-Fi connection, and from your iPad look for devices that host Airplay. Select the Apple TV, click on Mirroring Display, and voila, your Apple TV will now mirror your device. On an off chance that your iPad does not detect the Airplay icon, update both the iPad and the Apple TV software so they are the latest ones. You might also want to ensure that Airplay is enabled on the Apple Tv – an easy and common oversight. All this is considered believing that you have the new Apple TV which is a fairly expensive machine, but while it costs about a $100 ,00 , the things you can do with it are pretty amazing.
3. Use the VGA adapter to hook iPad to HDTV: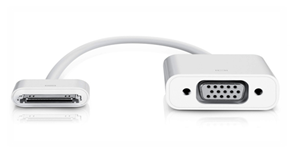 Possibly one of the best ways to hook up the iPad to the TV – one that supports display mirroring as well – is by using the VGA adapter. Not only can you hook up the HDTV, but you can also use the VGA adapter on other devices that support VGA and this could include everything from a projector to a computer. Almost all new devices are equipped with a VGA input, so if you like you can also move between the TV and other computers if your video is interrupted by outside circumstances. The VGA adapter is best suited to computer functions like browsing, social-networking, etc. because if there is one disadvantage, it has, it is that it does not support audio. That may be a problem if you are intending to watch movies or shows from your iPad on the TV, but it can be solved by either using the iPads inbuilt speakers, or connecting speakers to the headphone jack that the iPad has. In any case, it is worth your while to check whether your TV has a VGA Support system or not.
This guest post is brought to you by Rita Dawson of Cabletvserviceproviders.com, a site that offers savings and current information on time warner cable promotions.