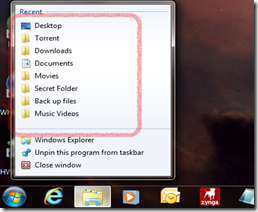 Jumplist is a great feature that made things very easy for me, but recently I realized that it could create privacy issues. Any person who uses your system can easily see your history  by just right-clicking on the taskbar Jumplist. However, we can override this default setting and configure not to save any history for recent opened items.
Follow the below simple procedure to Clear and Disable Windows 7 Jumplist History
1. Right-click on Taskbar => Select Properties
2. Go to Start Menu Tab and Uncheck "Store and display recently opened items in the Start menu and the taskbar" checkbox and Click on Apply and OK.
This will clear all Recently opened item's history, re-enabling the checkbox will not bring back the old item's history. If you decided later that you need recent opened items history to be stored, then just re-enable by putting a checkmark on the same.