This happens to everyone when you misplace the CD cover or lose the Windows XP Key. You have a window XP CD but don't have the key. Some people start searching for the key all over the Internet or may ask friends or relatives for the key, jeopardizing your system to piracy.
However, have you ever thought that the CD-Key of the Windows XP disc you were looking for was right inside the CD itself?
It's true. The keys are right inside the disk, and see how easily you can get the key from the CD.
Follow the below steps to find the XP key inside the Disc
Step 1: Insert your Windows XP CD into your computer's CD/DVD ROM/ RAM.
Step 2: Now, browse through your Windows XP CD and find folder I386.
Inside the folder, find the file named unattended.txt.
Step 3: Open unattended.txt in notepad.
Keep scrolling the file, and you will get the Windows XP CD key. If you don't find the key, try using the search option in notepad and search for "productkey". So this way, you can find the key inside the Disc.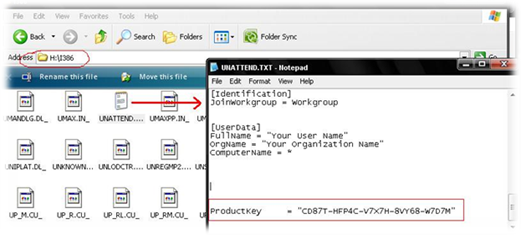 Most people don't know that the key they have can be used with any Windows XP copy. But if you brought Genuine Microsoft Windows XP CD, don't share the key because it will make your original copy into an illegal copy. You may start seeing the genuine banner above the taskbar stating that this Windows version is a pirated version.
Don't Forget to Subscribe to Techie Inspire