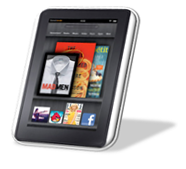 The holiday shopping season has been the most successful on record—and for Amazon, their new Kindles have driven a good portion of their gift sales. The new devices—the Kindle, Kindle Touch and full-color Kindle Fire—offer users more than just a high-tech reading tool. While the new Kindle and Kindle Touch are primarily e-readers, the Kindle Fire offers users a multimedia experience: games, movies and TV shows, a web browser, and an e-mail client allow users to explore the Internet however they like.
The Kindle Fire is also direct competition for Barnes and Noble's Nook tablets, which were the first to offer readers a full-color alternative to e-ink devices. For students and professionals, either the Kindle Fire or the Nook Tablet—Barnes and Noble's $250 analog to the Fire—would be a useful and exciting gift. But the Kindle Fire, for all its faults, comes out on top. From textbooks to communication apps, the Kindle Fire's apps and specs make it an affordable alternative to pricier Android tablets or the iPad2.
A lukewarm Fire?
There's been some discussion in the news lately about consumers who've soured on the Fire's design and OS: slow web page loading times, an unwieldy power button, and the lack of external volume control are just a few of the issues that are pushing customers over the edge. Amazon's forked Android OS is sometimes buggy, with programs and apps freezing and force closing without warning. And while the volume control might not seem like a major problem, it's nearly impossible to turn the volume up or down quickly. Finally, for students or professionals who use the Fire both at work or campus and at home, having Internet access is dependent on being in an area with accessible Wi-Fi.
Still a solid stocking stuffer
Of course, listing the Fire's glitches and hiccups might give prospective buyers pause, but despite its issues, the Fire is still the best tablet in its price category. The Fire's OS is a closed environment, but Amazon's Appstore offers a surprisingly diverse selection of programs for work and for play. The vivid full-color screen is optimal for books with illustrations—the pictures in children's books and cookbooks, for instance, are sharp and detailed—and the light isn't as harsh for reading plain text for long stretches, an important feature for students reading textbooks. While the Fire's memory storage is a relatively anemic 8GB, having an extra 5GB of free storage on Amazon's Cloud Drive, as well as unlimited storage for Amazon content, goes a long way toward making data easily accessible from anywhere. For people on the go, being able to store and access data from any computer is valuable.
Between the $200 price tag and Amazon's promise of upgrades to its OS in the immediate future, the Fire might be Amazon's most ambitious device. And although the company's ambition may have gotten ahead of its execution of the Fire's creation, it's safe to say that Amazon is a major player in the electronics game this holiday season, Cheap Gadgets for your Holiday.
.
Lindsey Harper Mac is an avid blogger who writes on behalf of Colorado Technical University.