Do you have a Google+ account? If yes, then you have interesting news to hear about it. Google+ allows you to share Desktop Screen with your friends through Google+ Hangouts. It can be helpful in many ways like you want to explain or troubleshoot some steps while handling a technical issue, etc. This sharing of computer screen can be done with many people at the same time.
Follow the steps given below to share Desktop screen using Google+ Hangouts:
1. Login to Google+ and start a Hangout session in Google+ and invite your friends to join the session.
2. Now in the top section you can see a tab 'Screenshare'. Click on it and you will see a window which has the preview of all the windows open on your computer as shown below: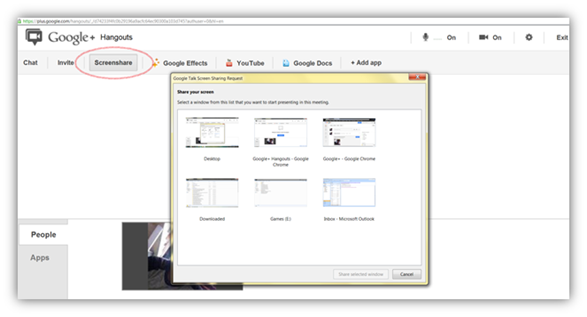 3. Now select the window which you want to share with your friends and the screen will be shared. If you select share Desktop Screen then you will share everything displayed on desktop i.e. including all application, If you only select an application to be shared then only that application will be shared. Here, I have selected the screen 'Inbox – Microsoft Outlook' to share with my friends. The screen will be shared and it will look as shown below:
It allows you only to share the screen and not give or take control of a desktop i.e. remote connection. As it allows to share screen it can be used as a Teaching tool to teach your friends about any topic which you want them to learn. I think, after reading this article, if you don't have a Google+ account, you will have one.